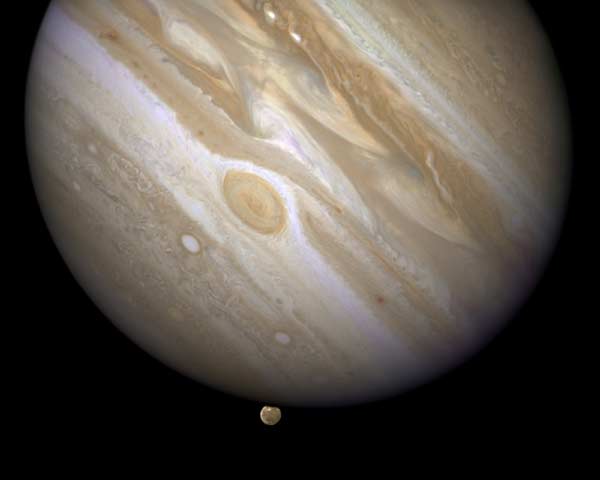 The planet Jupiter is shown with one of its moons, Ganymede (bottom), in this NASA handout taken April 9, 2007 and obtained by Reuters March 12, 2015. [Photo/Agencies]
CAPE CANAVERAL - Scientists using the Hubble Space Telescope have confirmed that the Jupiter-orbiting moon Ganymede has an ocean beneath its icy surface, raising the prospects for life, NASA said on Thursday.
The finding resolves a mystery about the largest moon in the solar system after NASA's now-defunct Galileo spacecraft provided hints that Ganymede has a subsurface ocean during exploration of Jupiter and its moons from 1995 to 2003.
Scientists told reporters on a conference call that it took some detective work to confirm the discovery.
Like Earth, Ganymede has a liquid iron core that generates a magnetic field, though Ganymede's field is embedded within Jupiter's magnetic field. That sets up an interesting dynamic with telltale visuals - twin bands of glowing aurora around Ganymede's northern and southern polar regions.
As Jupiter rotates, its magnetic field shifts, causing Ganymede's aurora to rock. Scientists measured the motion and found it fell short. Using computer models, they realized that a salty, electrically conductive ocean beneath the moon's surface was counteracting Jupiter's magnetic pull.
"Jupiter is like a lighthouse whose magnetic field changes with the rotation of the lighthouse. It influences the aurora," said geophysicist Joachim Saur, with the University of Cologne in Germany. "With the ocean, the rocking is significantly reduced."