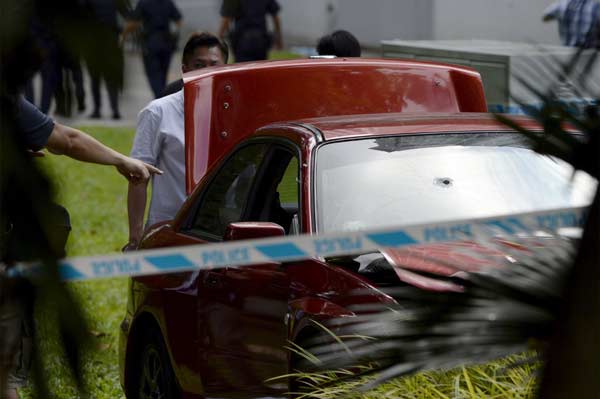 A bullet hole is seen on the front windscreen of a red sedan car which was involved in a shooting incident near the Shangri-La Hotel in Singapore May 31, 2015. [Photo/Agencies]
SINGAPORE -- One of the two passengers in the car that crashed through security barriers near Shangri-La Hotel on May 31 was accused of instigating the driver to commit a rash act to endanger the personal safety of two police officers, local media reported on Monday.
The two men who were charged with drug trafficking will be remanded for another week for further investigations. Muhammad Syahid Mohamed Yasin, 26, and Mohamed Ismail, 31, were first charged on June 1 with jointly trafficking about 9 grams of a substance believed to be heroin.
Muhammad Syahid is now accused of instigating the driver Mohamad Taufik Zahar, who was shot dead by the police after he accelerated the car toward police officers in the hotel's direction to act rashly and endanger the personal safety of two police officers.
Court documents showed that Muhammad Syahid shouted "jalan, jalan" in Malay which means "go, go!" in English to the driver to hurtle the car toward the police officers and finally crashed into a concrete barrier.
Deputy Public Prosecutor Yang Ziliang asked the two men to be in custody for another week as investigations were still underway. Both will be back in court on June 15.
If found guilty of drug trafficking, they each face five to 20 years in jail and five to 15 strokes of the cane. If convicted of acting rashly to endanger personal safety of others, Muhammad Syahid may be jailed six months or fined 2,500 Singapore dollars.