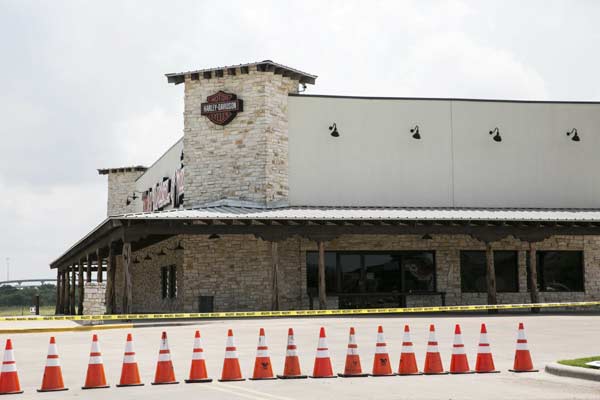 The Waco Harley-Davidson remains closed following the shooting at the Twin Peaks Restaurant in Waco, Texas May 18, 2015. [Photo/Agencies]
WACO, Texas - The local Harley Davidson dealership was closed, motorcycle riders were asked to stay off the roads and police snipers took to rooftops to watch Waco streets after a deadly gangland shooting caused many to cast a colder eye on bikers.
Police did not say how long the request would last.
Riders asked the public to take a breath, relax and realize that criminality is the rare exception for members of motorcycle clubs.
Waco Police said they have been threatened by motorcycle gangs after a Sunday shoot out between rivals at a Twin Peaks restaurant that left nine dead and 18 injured. They asked bikers to stay off the streets because it was difficult to distinguish between law-abiding riders and those bent on criminality.
Members and supporters of the riding community took to social media in defense of motorcycle clubs, mentioning charity work by organizations such as Bikers Against Child Abuse (B.A.C.A), which attend court appearances in support of child abuse victims.
"There are biker clubs out there who are not criminal. Not everyone who looks 'bad' is bad. And not everyone who looks 'good' is good," wrote Waco resident Jennifer Parsons on the police department's Facebook page.
Harley Davidson-Waco, located about half a mile from the crime scene, was closed indefinitely at the request of police, according to its Facebook page.