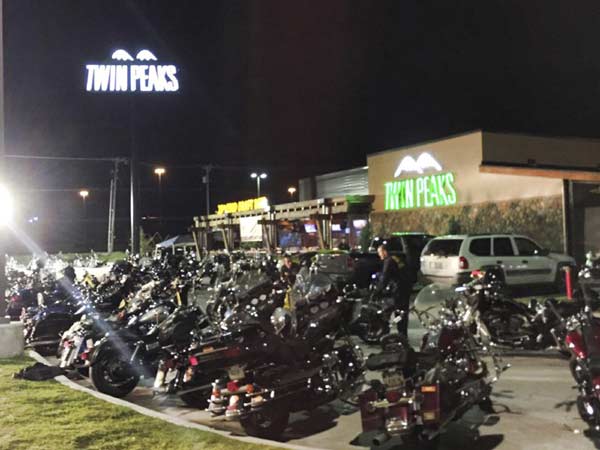 Waco Police Department photo shows police investigators at the scene at the Twin Peaks Restaurant in Waco, Texas in this images released on May 18, 2015. [Photo/Agencies]
"We will be working closely with Waco PD to determine when it is safe to reopen. They have also requested that you avoid riding in the area if you have another form of transportation," the shop posted.
One of the groups involved in the Texas shooting, the Bandidos, was listed by the US Justice Department as an outlaw motorcycle gang that produces and peddles drugs.
Twin Peaks, known for its scantily clad waitresses, said in a statement it is suspending all "bike nights" at its corporate-owned locations and encouraging franchises to do the same during the investigation.
Several locations in Texas announced they were postponing Monday's planned bikini contest and offered prayers to those affected by the shooting.
Finding motorcycles in downtown Waco stores proved difficult. The most obvious ones were the 100 or so in the Twin Peaks parking lot belonging to the 170 people arrested in Sunday's violent fight.
And those bikes were being towed away on Monday.