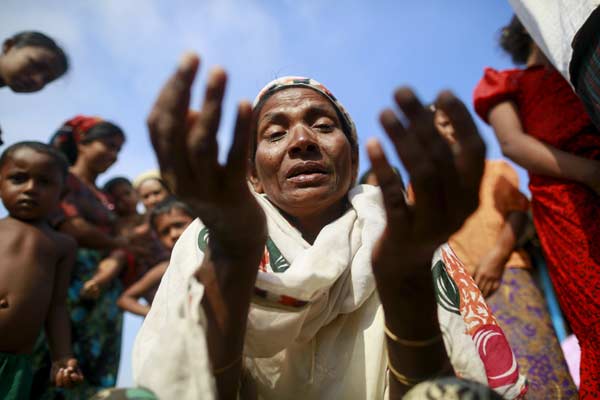 Zarli Hartu, 46, cries for her son Marmot Ismai, who she says was kidnapped into a human trafficking camp, at a refugee camp outside Sittwe May 21, 2015. [Photo/Agencies]
BANGKOK - Thai police said on Monday there were no human trafficking camps left in southern Thailand following a month-long crackdown and the discovery of seven camps in mountainous jungle near the Thai-Malaysian border.
The comments came hours after Malaysia's police said they had uncovered 139 graves thought to contain the remains of migrants from Myanmar and Bangladesh scattered around more than two dozen suspected trafficking camps near the border with Thailand.
Earlier this month, 36 bodies believed to be of migrants from Bangladesh and Myanmar were found in Thailand's southern Songkhla province.
Twenty-six of the bodies were discovered near an abandoned trafficking camp hidden deep in a jungle, very close to the border with Malaysia.
That discovery triggered Thailand's crackdown on the camps and a regional crisis that has seen thousands of migrants abandoned by traffickers in the Bay of Bengal and the Andaman Sea.
"Since we began our investigation, our big investigation, we have not found more graves or more trafficking camps apart from the ones already mentioned," Phuttichart Ekachan, deputy chief of Thailand's Provincial Police Region 9, said.