Many boats are turned back; Thailand gives food to starving Rohingyas at sea for weeks
Nearly 800 migrants were brought ashore in Indonesia on Friday, but other crammed vessels were sent back to sea despite a UN call to quickly rescue thousands set adrift in Southeast Asian waters.
Smugglers have abandoned ships full of migrants, many of them hungry and sick, in the Andaman Sea following a Thai crackdown on human trafficking. Thailand is the first stop on the most common trafficking route used by criminals preying on Rohingya Muslims fleeing persecution in Myanmar and Bangladeshis seeking to escape poverty.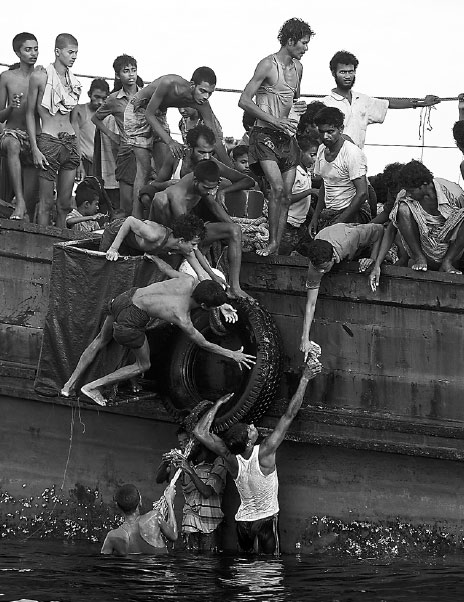 Rohingya Muslim migrants pass food supplies dropped by a Thai army helicopter to others aboard a boat drifting in Thai waters off the southern island of Koh Lipe in the Andaman Sea on Thursday. Christopher Archambault / AFP
"The latest information we have is about 794 people were found in the middle of the sea and brought ashore by fishermen at 5 am on Friday morning," said Khairul Nova, a search and rescue official in Langsa, a town in the Indonesian province of Aceh.
"They are now in a warehouse by the port as a temporary arrangement," Nova said.
Nearly 1,400 migrants have landed in Aceh on Indonesia's western tip, and over 1,000 have landed in Malaysia. Aceh is just across the Malacca Strait from Thailand and Malaysia.
But migrants on two other boats were turned away.
Indonesia's navy prevented a boat with hundreds of migrants on board from entering its waters, an Indonesian military spokesman said.
A vessel carrying around 400 migrants that the Thai navy towed out to sea was heading toward Indonesia, a Thai government radio station reported.
Thai officials gave food and water to hundreds of emaciated Rohingya who have been at sea on the overcrowded boat for weeks. In recent days they were abandoned by their traffickers, who also disabled the engine before fleeing.
Intergovernmental agencies urged the region's governments to rescue the migrants first and worry about long-term solutions later.
"The situation is very grave," said Joe Lowry, regional spokesman for the International Organization for Migration in Bangkok.
"They have no food, no water and are drinking their own urine. This is a game of maritime ping pong with human life. We expect governments in the region to find a solution rapidly ... or we will be finding boatloads of desiccated corpses floating around in the Andaman Sea in coming days."
The IOM had freed up $1 million to help the region's governments supply food, water and medicine to those found, he said.
The United Nations on Thursday urged governments to fulfill their obligation to rescue those at sea and "keep their borders and ports open in order to help the vulnerable people who are in need".
Washington also is stepping up its calls for governments to work together to save stranded migrants, but it appears reluctant to provide direct US help in search and rescue.
"This is a regional issue. It needs a regional solution in short order," State Department spokesman Jeff Rathke told reporters on Thursday.
Reuters - AFP - AP
(China Daily 05/16/2015 page11)