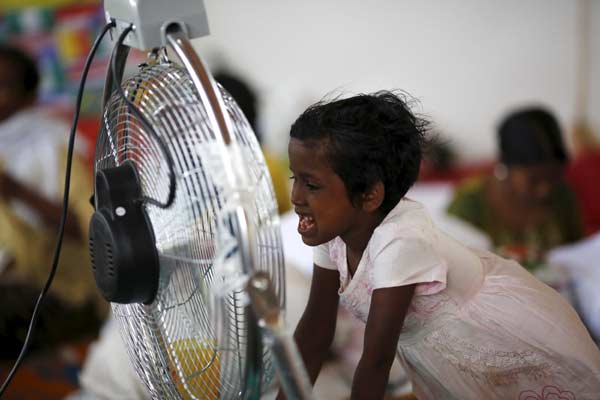 A young Rohingya migrant, who arrived recently by boat, stands in front of a fan at a temporary shelter in Kuala Langsa, in Indonesia's Aceh Province May 25, 2015. [Photo/Agencies]
KUALA LUMPUR -- Some 139 grave sites and 28 suspected human trafficking camps have been discovered near Malaysia's northern border with Thailand, the country's police chief said on Monday.
However, the authorities are yet unable to tell how many bodies are inside each grave, national police chief Khalid Abu Bakar was quoted by local media as saying.
A team of officers have been sent to exhume the bodies, he said.
The graves were believed to contain remains of refugees and foreign job seekers in the human trafficking trade.
A crackdown on human trafficking was launched in Thailand after dozens of bodies of deceased Rohingya migrants from Myanmar have been exhumed from graves found in Thailand's side of the border in recent weeks.
Since the crackdown, boats carrying thousands of migrants seeking to land in Malaysia, Indonesia and Thailand, mostly from Myanmar and Bangladesh, have been stranded at sea.
Indonesia and Malaysia have later agreed to take on 7,000 Bangladesh migrants and Myanmar's Rohingya refugees pending their repatriation.