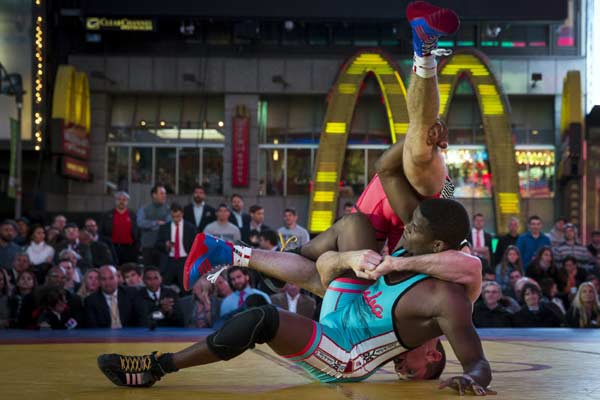 Cuban wrestler Livan Lopez Azcuy slams US wrestler David Taylor during their "Salsa in the Square" wrestling match in New York's Times Square, May 21, 2015. [Photo/Agencies]
NEW YORK - World class wrestlers from Cuba and the United States celebrated the improving relations between the countries on Thursday with an outdoor exhibition amid the hubbub of Times Square.
The US team of Olympians and world championship wrestlers won nine of the 13 bouts against their Cuban counterparts.
Olympic gold medalist Jordan Burroughs beat Luis Quintana Martinez by technical fall at 163 pounds to wrap up the event, which benefits youth wrestling organization Beat the Streets.
This is the sixth straight year top American wrestlers have taken part in the fundraiser at a New York City landmark.
Other US winners Thursday included David Taylor, who beat Olympic bronze medalist Livan Lopez Azcuy 18-7, also at 163 pounds. Nineteen-year-old Kyle Snyder defeated world championships bronze medalist Javier Cortina Lacerra 4-0 at 213 pounds.
"This is an excellent tournament, an excellent opportunity," Cuban team leader Eduardo Perez told Reuters.
"We appreciate the invitation. This is something that we hope to build on, to come back again and it will make the United States and Cuba strong.
"Hopefully the relationship continues and the relationship keeps getting stronger between the two nations. Right now in Cuba you can't really see the changes. But when the door opens more, you are going to see trade, going to see business."
The wrestling showdown precedes a trip to Havana by the New York Cosmos soccer team for a game against Cuba next month, and the hope of Major League Baseball Commissioner Rob Manfred to arrange some games next year in baseball-mad Cuba.