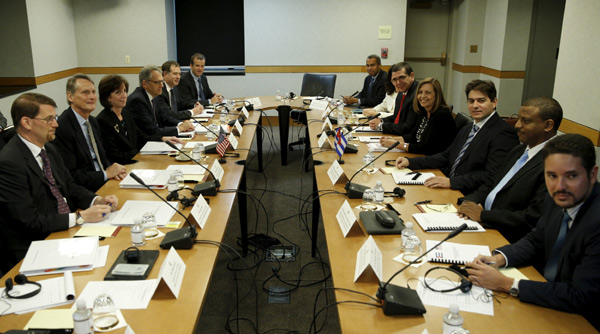 Assistant US Secretary of State for Western Hemisphere Affairs Roberta Jacobson (3rd L) and Josefina Vidal (4th R), director general of the US division of the Cuban foreign ministry, sit with their delegations at the fourth round of closed talks to re-establish diplomatic relations between the United States and Cuba at the State Department in Washington May 21, 2015. [Photo/Agencies]
WASHINGTON - The United States and Cuba on Thursday ended their latest round of talks on normalizing relations and reopening embassies without results, but agreed to continue the negotiations on Friday, a State Department spokeswoman said.
"Talks between Cuba and the US have concluded for the day," spokeswoman Marie Harf tweeted. "They will continue tomorrow, followed by press availabilities."
The State Department had planned only one-day meeting for the fourth round of talks with Cuba, which the island nation had said would be the last one before the two countries reopen embassies in each other's capitals.
Washington and Havana are trying to agree on rules relating to the movement of US diplomats in Cuba, White House spokesman Josh Earnest said.
The Obama administration is demanding freer travel for American diplomats as well as access to the US embassy by Cuban citizens, while Cuba has voiced objection to US "democracy programs" on its soil.
Assistant Secretary of State Roberta Jacobson, the chief US negotiator with Cuba, told lawmakers on Wednesday that there would be no embassy reopening in Havana without American diplomats first being allowed to travel more freely outside the capital city.
US diplomats are not allowed to leave Havana without permission until now, while their Cuban counterparts are limited to Washington DC and New York.
Both countries sounded a note of optimism ahead of the fresh talks in Washington, with a Cuban Foreign Ministry official reportedly saying "this could be the last round" before embassies are reopened.
Since the last round of talks in mid-March, US President Barack Obama had met with Cuban leader Raul Castro in Panama on the sidelines of a regional summit and decided to remove Cuba from the US list of state sponsors of terrorism, in moves seen as contributing to a growing detente in bilateral relations.
Meanwhile, Cuba diplomats have found a US bank willing to do business with them, removing another roadblock in reopening embassies closed since 1961.
Havana has indicated that it would wait until May 29 before making any announcement on embassy reopening, as a 45-day US congressional review period over Obama's decision expires then.
Reopening embassies is the first major step in reestablishing full diplomatic relations following a bitter rivalry that has lasted over half a century, as envisioned by Obama and Castro in December when they announced the normalization process.
Earnest said on Thursday that Obama would like to visit Cuba before he leaves office in January 2017.
"I know there's one person particularly that hopes President Obama will be in Havana at some point in the relatively recent future, and that's President Obama himself," he told reporters at a daily news briefing.