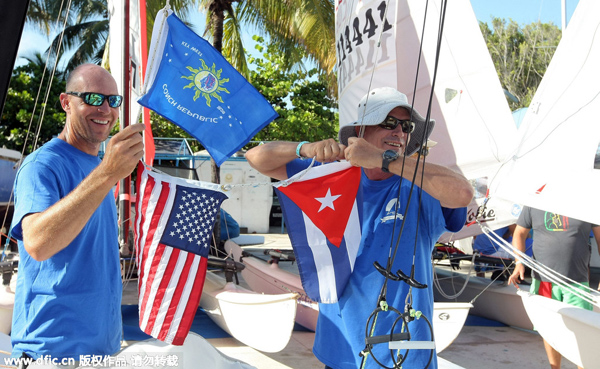 Participants of Cuban and US teams prepare for a regatta in Havana, Cuba, May 19, 2015. [Photo/IC]
HAVANA - Competitive sailors from the US and Cuba have been showing off their skills in Havana Bay as the two countries work on restoring diplomatic relations after decades of hostility.
Five crews from the Cuban national sailing team and four crews from Key West, Florida, cruised across the bay Tuesday as spectators looked on from the famed Malecon seawall. Sailors from both countries said they were excited for the rare opportunity to race against each other, though it was billed as a strictly friendly competition.
The US sailors arrived over the weekend after crossing the Florida Straits to Cuba in the Havana Challenge, with the required US permits for the first time.
The last official competition between US and Cuban sailors was during the Pan-American games in Havana in 1991.