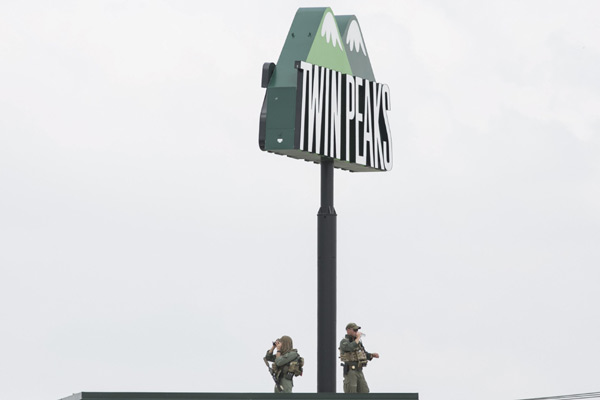 Police officers monitor the scene of a shooting from the roof of the Twin Peaks Restaurant in Waco, Texas, May 18, 2015. Police braced for retaliation attacks after 170 people were charged on Monday in connection with the shootout among motorcycle gangs a day earlier that left nine dead and 18 wounded at the Twin Peaks restaurant turned into a blood-soaked crime scene. [Photo/Agencies]
WACO, Texas - About 170 members of rival motorcycle gangs were charged with engaging in organized crime Monday, a day after a shootout at a Texas restaurant that killed nine people and wounded 18.
The crowd of suspects was so large that authorities opened a convention center to hold them all before they were arrested, police said.
Sunday's melee at the Twin Peaks restaurant in Waco drew a broad police response that included placing officers atop buildings and highway overpasses to watch for other bikers rushing to the scene to retaliate.
Waco police Sgt. W. Patrick Swanton said that authorities had received threats from biker groups against law enforcement "throughout the night" after the shooting and that authorities stood ready to confront any more violence. He told The Dallas Morning News a retaliatory threat remained high on Monday.
McLennan County Justice of the Peace W.H. Peterson set bond at $1 million for each suspect. He defended the high amount, citing the violence that quickly unfolded in a shopping market busy with a lunchtime crowd.
"We have nine people dead, because these people wanted to come down and what? Drink? Party?" Peterson said. "I thought it was appropriate."
Peterson also performed inquests on the nine dead bikers but declined to identify them pending notification of family. Peterson says all nine were from Texas.
Police acknowledged firing on armed bikers, but it was unclear how many of the dead were shot by gang members and how many were shot by officers.
Swanton said the Waco Convention Center was used to hold the suspects temporarily as police rushed to secure many parts of the city amid reports of rival bikers going elsewhere to continue the fight. Those at the convention center were later taken to jail.
It's too early to determine how many motorcycle gang members will face murder charges, Swanton said.
Five gangs had gathered at the restaurant as part of a meeting to settle differences over turf and recruitment. Prior meetings had been held at the restaurant, and managers there had dismissed police concerns over the gatherings, he said.
"They were not here to drink and eat barbecue," Swanton said. "They came here with violence in mind."