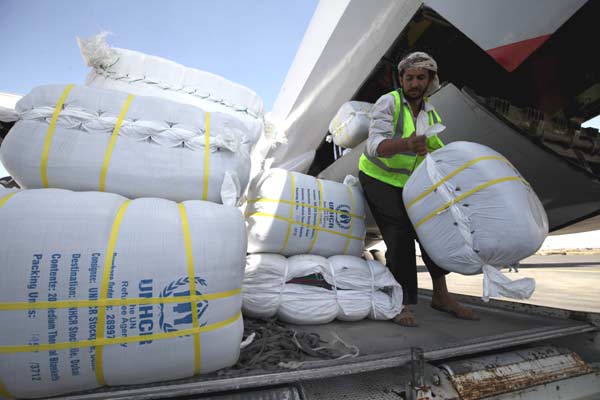 Aid packages from relief agencies are unloaded at Sanaa International Airport, Yemen, May 16, 2015. [Photo/Agencies]
Impoverished and strife-torn even before the war, Yemen is now mired in a humanitarian catastrophe, as 300,000 people have been displaced by the conflict and 12 million are short of food.
"I am hopeful (there will be an extension)," Ould Cheikh Ahmed told journalists on the sidelines of the conference, attended by President Abd-Rabbu Mansour Hadi. "All my first contacts indicate that we have a chance, but I am really calling on all parties to extend this for a minimum of five days."
Saudi Arabia has said that extending the truce depended on how the Houthis and their ally, former President Ali Abdullah Saleh, complied with the ceasefire.
The world's top oil exporter has accused the Houthis of violating the truce but said it would exercise self-restraint to allow the delivery of badly needed supplies to Yemenis.
Yemeni Vice President Khaled Bahah, who also heads the government in exile, said his administration was in favour of extending the truce but a decision on that depended on the situation on the ground.
"We need the ceasefire to continue for long, not just for a few days, but it depends on the operation on the ground," Bahah told Reuters in the Saudi capital, Riyadh.
"There is an effort for an extension, but it depends on how it is on the ground. But it's our wish from the government side that we need to extend it," he added.