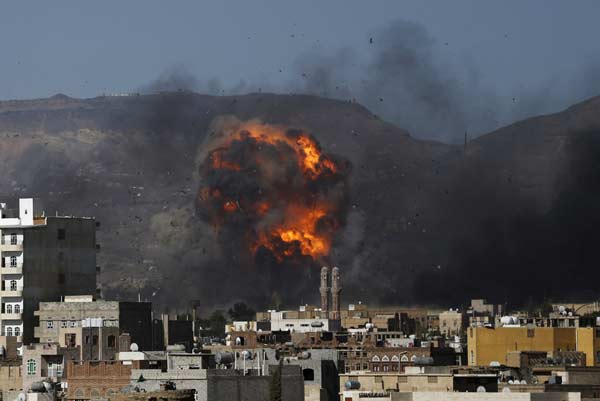 An air strike hits a military site controlled by the Houthi group in Yemen's capital Sanaa May 12, 2015. [Photo/Agencies]
CAIRO - Saudi-led air strikes pounded the Yemeni capital Sanaa on Tuesday, hours before a five-day truce was set to begin between the alliance of Gulf Arab nations and the Houthi militia which controls much of the country.
Residents said three air strikes hit a base for army units loyal to the Houthis in the north of the capital, sending up a column of smoke.
In the southern port of Aden, witnesses said the alliance bombed Houthi positions, and local armed groups were still fighting the rebels in the city and throughout Yemen's south. On Monday, they also exchanged heavy artillery fire on the border.
Backed by Washington, the Saudi-led coalition has been bombing Houthi rebels and allied army units since March 26 with the aim of restoring exiled President Abd-Rabbu Mansour Hadi.
The ceasefire was set to take effect at 11 pm (2000 GMT) to allow the shipment of food and medicine to the blockaded country, which aid groups warn faces a humanitarian catastrophe.