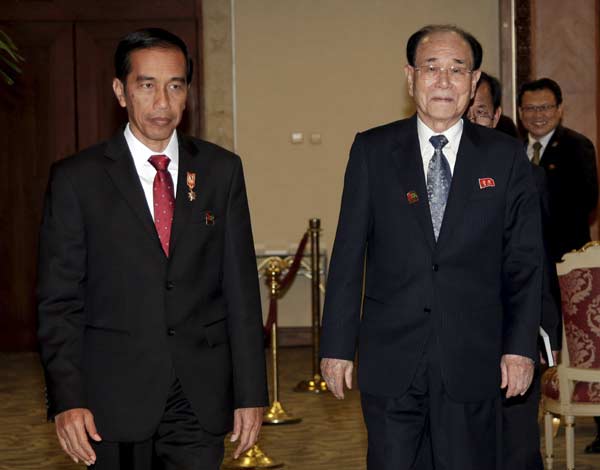 Indonesian President Joko Widodo (L) walks with Kim Yong Nam after their bilateral meeting on the sidelines of the Asian African Conference in Jakarta April 23, 2015. [Photo/Agencies]
PYONGYANG -- Kim Yong Nam, president of the Presidium of the Supreme People's Assembly of the Democratic People's Republic of Korea (DPRK), will visit Russia for Victory Day celebration on May 9, the official KCNA news agency reported Monday.
Kim Yong Nam will go instead of top leader Kim Jong Un, who has canceled his planned visit to Moscow on the grand occasion.
Kremlin spokesman Dmitry Peskov confirmed Kim Jong Un's cancellation last Thursday, saying "We were informed of the decision via diplomatic channels ... The leader cited interior affairs in his country as the reason for his absence."
The KCNA did not reveal the details of Kim Yong Nam's visit, including the time of his departure and how long he will stay in Moscow.
Russia celebrates Victory Day on May 9 every year to mark the victory over Nazi Germany in the Great Patriotic War, Russia's term for World War II. This year marks the 70th anniversary of the victory.