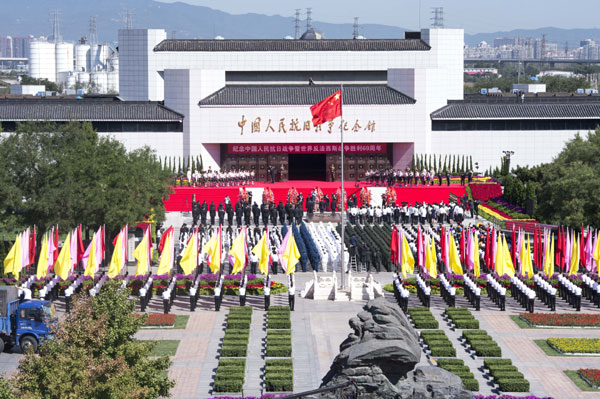 The memorial activity is held in the Museum of the War of Chinese People's Resistance Against Japanese Aggression on Sept 3 in Beijing. [Photo/Xinhua] 
China celebrates the first official memorial day of the War of Resistance against Japanese Aggression (1937-1945) on Wednesday.
This year's Sept 3rd marks the 69th anniversary of the victory of anti-fascist war and also China's victory in its war against Japan's invasion.
The standing committee of the National People's Congress set Sept 3rd the Victory Day starting from this year to highlight the importance of China's role in the fight against Japan and the allied victory in the Second World War.
China's top leaders attended a ceremony held Wednesday morning at the Museum of the War of the Chinese People's Resistance Against Japanese Aggression. Among those present were Chinese President Xi Jinping, Premier Li Keqiang, as well as leaders Zhang Dejiang, Yu Zhengsheng, Liu Yunshan, Wang Qishan and Zhang Gaoli.
Officials stood in silent tribute during the ceremony. Presided over by Li Keqiang, they presented flower baskets to martyrs who sacrificed their lives in the war.
A salute of 14 guns was fired, symbolizing China's 14-year struggle against the Japanese invaders, which began Sept 18, 1931 when Japanese troops attacked northeast China and lasted until their surrender in 1945.
A total of 3,500 doves were released later to remind people of the estimated 35 million Chinese soldiers and civilians who were killed or wounded by Japanese troops.
Later officials toured a museum exhibition demonstrating the great contribution Chinese people made to the victory of the World Anti-Fascist War.
Featuring more than 150 historical relics and 200 pictures and video materials, it comprehensively showed China's role as an important strategic pillar for allied forces in Asia Pacific and other contributions to the war.
Before the ceremony, leaders met with veterans, relatives of martyrs and family representatives for deceased foreigners who contributed to the victory of the war.
History expert Qi Biao believes the official establishment of the Victory Day will help cement national spirit, remember history, appeal to peace and sound a warning to the future.
"In Japan's view, China always returns evil for good, but the truth is that it is Japan that does the opposite." Qi added.