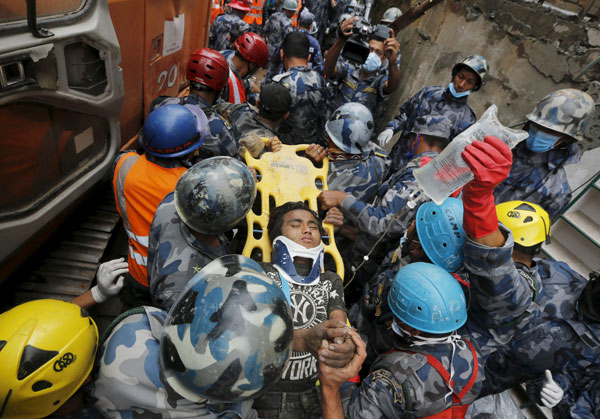 Earthquake survivor Pema Lama, 15, is rescued by the Armed Police Force from the collapsed Hilton Hotel, the result of an earthquake in Kathmandu, Nepal April 30, 2015.[Photo/Agencies]
KATHMANDU - Rescue teams toiling amid rubble left by Nepal's devastating earthquake pulled a teenage boy to safety on Thursday after he had been trapped for five days, a rare moment of joy for a country struggling to cope with the aftermath.
Officials said the chances of finding more survivors were fading as the death toll neared 5,500.
But Nepal's Armed Police Force managed to save 15-year-old Pema Lama from the collapsed ruins of Kathmandu's Hilton Hotel to huge cheers from the onlooking crowd.
While rescuers were out in the capital despite heavy morning rain, helicopters could not fly to the worst-hit areas in the countryside of the Himalayan nation.
"The rain is adding to the problems. Nature seems to be against us," said Rameshwor Dandal, chief of the disaster management centre at Nepal's home ministry.
Many people have been sleeping in the open since Saturday's quake. According to the United Nations, 600,000 houses have been destroyed or damaged.
Eight million people have been affected, with at least two million in need of tents, water, food and medicines over the next three months.
An official from Nepal's home ministry said the number of confirmed deaths from the 7.8 magnitude earthquake had risen to 5,489 by Thursday morning, and almost 11,000 were injured. More than 80 people have been killed in neighbouring India and Tibet.
Anger over the pace of the rescue has flared up in some areas, with Nepalis accusing the government of being too slow to distribute international aid that has flooded into the country.
It has yet to reach many in need, particularly in remote areas hard to access given the quake damage and weather conditions.
Russell Brice, head of climbing company Himalayan Experience, said he had asked the government to send a military helicopter to fly into Langtang to rescue the stranded, including three of his Indonesian clients, because civilian helicopter teams were afraid to go there.