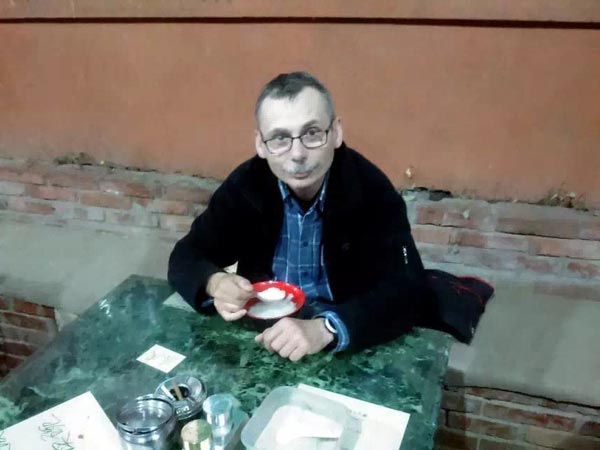 A foreigner eats porridge at a Chinese noodle restaurant owned by Li Liang in Kathdmandu, Nepal, April 25, 2015.  [Photo/CFP]
KATHDMANDU - A Chinese noodle restaurant owner traveled by helicopter to evacuate eight injured Chinese climbers stranded by earthquake in Nepal and provided free food in Kathdmandu.
There were four Chinese amateur mountaineer teams including 38 people in the south slope of Mount Qomolangma, also known as Mount Everest, when a 7.9-magnitude earthqake struck the Nepal capital on Saturday and resulted in avalanche that left one killed, eight injured and one is still out of touch.
"We hadn't expected that many Chinese climbers in the earthquake-affected area," said Li Zhixin, director of the Chinese Mountaineering Association (CMA) on Monday.
The CMA managed to secure a helicopter to pick up the injured Chinese climbers with the help of restaurant owner Li Liang.
Li Liang, a member of the CMA and owner of a noodle restaurant in Kathdmandu, made four return trips, taking the injured to the capital.
"After he took the injured climbers to Kathdmandu, he returned to the mountain camp to help those who yet to leave," said Li Zhixin.
Despite the fact that power is out in Kathdmandu, Li Liang's restaurant is still in business, giving out free food to about 500 tourists.
"Although there is no power there, he tried his best to do something for other people," said Li Zhixin.