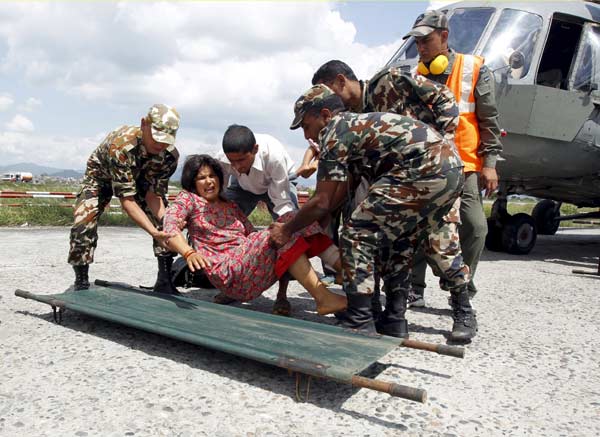 Indian Army soldiers place an injured woman, who was wounded in Saturday's earthquake, on a stretcher after she was evacuated from Trishuli Bazar to the airport in Kathmandu, Nepal, April 27, 2015. [Photo/Agencies]
KATHMANDU, Nepal - Nepalese officials scrambled on Monday to get aid from the main airport to people left homeless and hungry by a devastating earthquake two days earlier, while thousands tired of waiting fled the capital Kathmandu for the surrounding plains.
By afternoon, the death toll from Saturday's 8.1 magnitude earthquake had climbed to more than 3,700, and reports trickling in from remote areas suggested it would rise significantly.
A senior interior ministry official said it could rise to as high as 5,000, in the worse such disaster in Nepal since 1934, when 8,500 people were killed.
Kathmandu's Tribhuvan International Airport was hobbled by many employees not showing up for work, people trying to get out, and a series of aftershocks which forced it to close several times since the quake.
Home Minister Bam Dev Gautam was supervising aid delivery and arranging for passengers to leave the country.
Government officials said they needed more supplies of food, medicines, specialized rescue services and body bags.
"The morgues are getting totally full," said Shankar Koirala, an official in the Prime Minister's Office who is dealing with the disposal of bodies.
Families lit funeral pyres for the dead in towns and across the countryside.