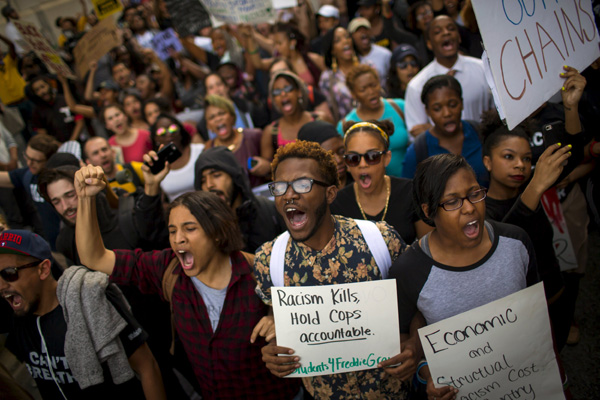 Demonstrators march in Baltimore, Maryland, April 29, 2015. [Photo/Agencies]
BALTIMORE - Protesters marched against police violence in cities from New York to Boston on Wednesday, as troops stood by in Baltimore to enforce a curfew imposed after civil unrest over the death of a 25-year-old black man.
The marches were the latest in a string of demonstrations against racial profiling and police use of lethal force sparked by the deaths of unarmed African-American men in Cleveland; Ferguson, Missouri; New York and elsewhere in the past year.
New York City police arrested at least three people after hundreds of protesters gathered in Union Square and some of them tried to cross barriers to march through the streets. Boston, Washington and Minneapolis saw smaller demonstrations.
In Baltimore, thousands of peaceful marchers converged on city hall capping a day of calm in a city that two days earlier saw its worst rioting in decades.
Protesters in the mostly black city of Baltimore sought answers about the fate of Freddie Gray, who died after suffering spinal injuries while in police custody. Police are due on Friday to give their findings on Gray's death to prosecutors but they have said no information will be made public.
"Can't stop, won't stop, put killer cops in cell blocks," chanted protesters in the biggest march in Baltimore since Gray died on April 19, a week after his arrest and injury.
Republican Governor Larry Hogan said protesters must respect the nighttime curfew, and that troops would not tolerate looting or rioting. Nineteen buildings and dozens of cars burned in Baltimore on Monday in a spasm of violence.