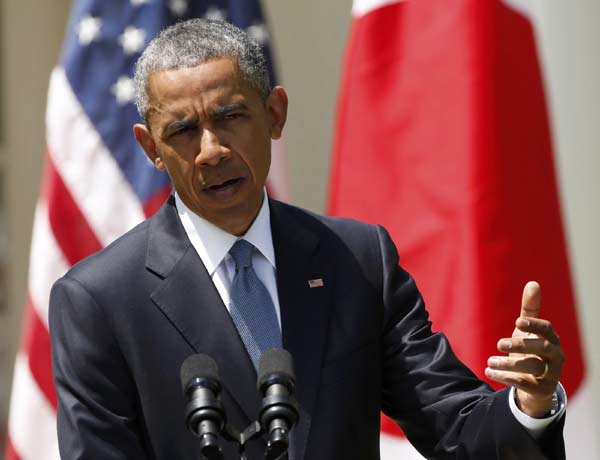 US President Barack Obama addresses a joint news conference in the Rose Garden of the White House in Washington, April 28, 2015. [Photo/Agencies]
WASHINGTON -- US President Barack Obama said on Tuesday there was no excuse for that kind of violence that occurred in Baltimore in the past days, calling for the country to do some "soul searching" as the race-related riots convulsed the largest city of US State of Maryland.
"They're not protesting, they're not making a statement, they're stealing," Obama told a joint press conference, referring to those involved in violence, looting and arson after the funeral held for Freddie Gray, a 25-year-old African American who died after suffering a spine injury in police custody earlier this month.
The black man's death had triggered week-long protests since April 19 and eventually turned into chaotic looting, arson and violent confrontations with the police.
Obama also said the problems in places such as Baltimore were not new and need to be addressed by everyone.
"We can't just leave this to the police," he said, adding that "we as a country have to do some soul searching. This is not new. It's been going on for decades."
Obama also pointed out that it was important for police departments to recognize that some of them have a problem in how they deal with criminal suspects of color. "There are some police who aren't doing the right thing," he said. Rather than close ranks, he said, some police chiefs have recognized "they've got to get their arms" around the problem.
The public comments are Obama's first since violence began in Baltimore on Monday afternoon and continued overnight, following more than 200 arrests and 140 fires, according to the Baltimore police department.