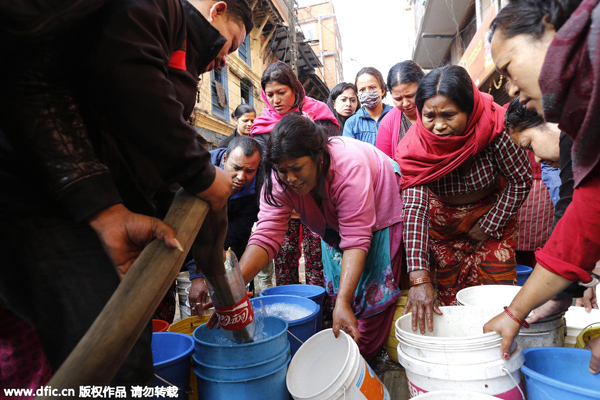 Local people collect water supplied by Nepal Water Corporation in Kathmandu, Nepal, 29 April 2015. [Photo/IC]
KATHMANDU - Four days after Saturday's major quake struck Nepal, earthquake relief distribution programs are still limited to Nepal's capital, and helpless victims out of Kathmandu valley districts are eagerly awaiting for relief.
Though there has been huge assistance efforts from foreign nations and donor agencies, the government is finding it difficult to manage the post-quake havoc.
Though helicopters have been sent for immediate rescue of survivors, the presence of relief materials seems scarce.
On midday Monday, the government chief secretary said the government was preparing to send tents, medicine, food, water and volunteers to the affected areas soon, but so far many rural people have not been able to access much relief material.
In lack of these essentials, people of highly-affected districts out of the Kathmandu valley, such as Sindhupalchowk, Nuwakot, Dhading, Gorkha, Kavre, and Rasuwa, have called for support through social media.
"Gorkha is home to so many brave Gorkhalis who helped the world, but are not being helped enough," a Subash Ghimire tweeted from Gorkha this morning.
Similarly, other youths of Gorkha expressed their anger through social media and said that they are in need of basic essentials like tents, food and water. "Dear government, where are you? Kathmandu alone is not Nepal." one tweet reads.
More than 374 people have already been confirmed dead in the district till Tuesday evening.
Similarly,people of Sindhupalchowk district also complained about lack of relief materials in their region, where more than 1, 250 people have been confirmed dead.
Binu Shestha, 26, a local of Sindhupalchowk who returned to her village on Monday from Kathmandu, where she was studying with her cousins to volunteer, told Xinhua over phone that rescue is still underway but relief programs was scarce in her home village.
Most of the villages have been completely leveled as old buildings were reduced to rubble.
According to the home ministry, 454,769 people have been internally displaced by Saturday's quake, the biggest in 80 years in the Himalayan nation.
Some social organizations, youth clubs and individuals have started to move towards these districts with food, tents and basic essentials.