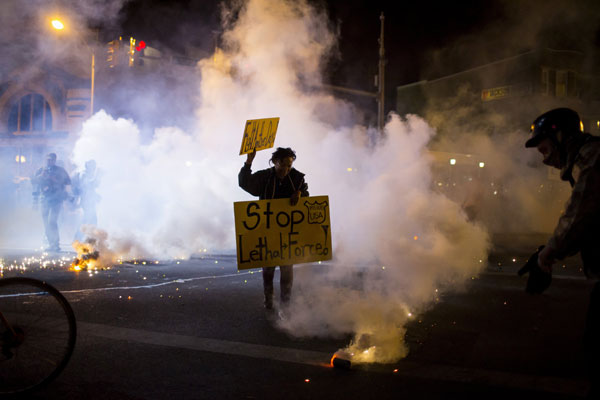 A protester holds a sign as clouds of smoke and crowd control agents rise, shortly after the deadline for a city-wide curfew passed in Baltimore, Maryland April 28, 2015.[Photo/Agencies]
Sun, who declined to give her full name, is a Chinese freelancer who lives with her husband about a 10-minute drive from where the riots occurred. The TV news and the Baltimore police Twitter account are her sources for riot news every few minutes.
Sun, who has lived in the US for more than three years, said on Tuesday that she hadn't been outside.
"I'll be careful to stay indoors," she told China Daily. "I talked with my neighbors yesterday, and they've got their guns prepared at home."
"We still have some food bought (from) last week, but not too much," she said. "When we are run out of food, probably we'll try to go to the supermarket … away from the riots."
Yang Lishi, a visiting scholar at the University of Maryland, Baltimore, who has been in the US less than two months, said that the traffic on the daily route she walks though seemed thinner. Her classes were canceled, and she has been receiving safety-warning e-mails from the university since Saturday.
"I haven't seen the riots, but my colleague said there were demonstrations on her way back home, and some protesters even patted against her car windows," Yang said. "Even though the campus looks normal as usual, we're scared."
Messages from riot witnesses like Qian were sent over Chinese social media site WeChat, which has 70 million users outside of China, according to Tencent.
"Qian is actually the first one who reminded others to be careful," Fu Hao, founder of Chinausfusionelite, told China Daily. Chinausfusionelite is a public account founded by Fu two years ago. It sent out a "moment" on WeChat on Monday, with pictures and stories from Baltimore, that received 50,000 hits in less than 24 hours.
"Around 4 to 5, there started to be more and more people talking about what's going on in Baltimore, which got our attention," Fu told China Daily.
"There has been an increase of more than 1,000 followers of our WeChat account since the publication of the post," Fu said. "So we set up a WeChat group to connect people together and send out messages to help them to protect themselves."
"People have been forwarding messages that there are Chinese students injured in the unrest, but no one has accurate information yet," Fu told China Daily.
"There's no excuse for the kind of violence that we saw yesterday," US President Barack Obama said Tuesday at the White House. "It is counterproductive."
Obama also said that problems in cities such as Baltimore are not new and need to be addressed by everyone.
"We can't just leave this to the police," Obama said, adding that "we as a country have to do some soul searching. This is not new. It's been going on for decades."
Almost a quarter of the people live below the poverty line in Baltimore, the setting of the gritty TV police drama The Wire.
Hong Xiao, Reuters and Ifeng contributed to this story.
Contact the writers at leshuodong@chinadailyusa.com