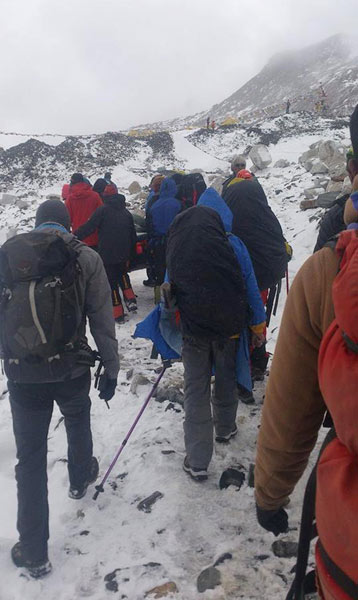 Climbers and guides carry an injured after an avalanche struck Mount Qomolangma Base Camp in Nepal, Saturday, April 25, 2015. An avalanche triggered by a massive earthquake in Nepal smashed into a base camp between the Khumbu Icefall, a notoriously treacherous rugged area of collapsed ice and snow, and the base camp where most climbing expeditions are, said Ang Tshering of the Nepal Mountaineering Association. [Photo/IC]
KATHMANDU - At least 18 mountaineers have been confirmed killed in the avalanche in Mount Qomolangma, triggered by a major earthquake on Saturday, and their nationalities are not yet clear, Nepal's Tourism Department told Xinhua on Sunday.
"Eighteen climbers have lost their lives with around 20 others missing in the avalanche", Tulsi Prasad Gautam, Executive Director of Department of Tourism told Xinhua.
Though six helicopters were dispatched to the avalanche-hit area on Saturday, only two could function owing to bad weather condition.
A few of the injured are undergoing treatment at Pheriche village near Lukla whereas other climbers are on their way down from the base camp. At least 50 climbers are estimated to be missing from the base camp.
"One helicopter has been already sent this morning to bring the seriously injured to Kathmandu for specialized medical treatment," Gautam added.
According to Department of Tourism, weather is a major challenge to for the rescue operation.