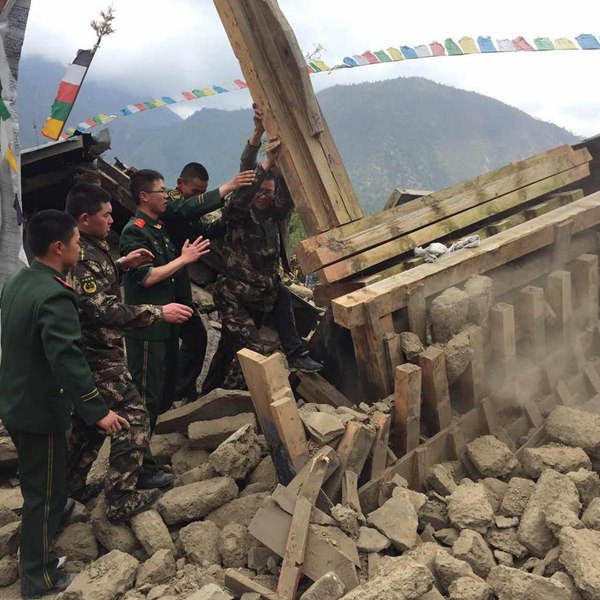 Rescuers work in the county of Gyirong in China's Tibet autonomous region, April 25, 2015. [Photo/Xinhua]
XIGAZE, Tibet - At least 20 people were confirmed dead in Southwest China's Tibet autonomous region from the earthquake that struck neighboring Nepal on Saturday. A total of 58 people there were injured and another four remain missing, according to the regional disaster relief headquarters.
A 8.1-magnitude quake shook Nepal at 2:11 pm (Beijing Time), killing at least 1,805 people and injuring over 4,700, according to Nepal's Home Ministry. The quake also affected the southwestern part of China's Tibet. Some 7,000 people have been relocated in Nyalam county and about 5,000 in Gyirong county, some 800 km west to Lhasa.
The two border ports to Nepal were seriously affected. The highway linking Xigaze and the Zham Pass, the border port to Nepal, has been cut by landslides.
As of 7 am Sunday, four people, including a Nepalese national, were missing in Nyalam. About 80 tourists, including a dozen foreigners, were visiting the county when the earthquake happened.
The quake toppled 1,191 houses, damaged roads and cut telecommunications in Xigaze, where 54 temples were damaged.
A 5.9-magnitude aftershock shook Xigaze at 5:17 pm Saturday and a 5.3-magnitude quake jolted Nyalam County at 1:42 am Sunday, China Earthquake Networks Center recorded. Weather forecasts predict continuous rain and snow for the next few days.
Over 400 mountaineers from more than 20 countries on the Tibetan side of Mount Qomolangma have descended or are descending to the north base camp at 5,200 meters (16,900 ft) with no casualties reported.