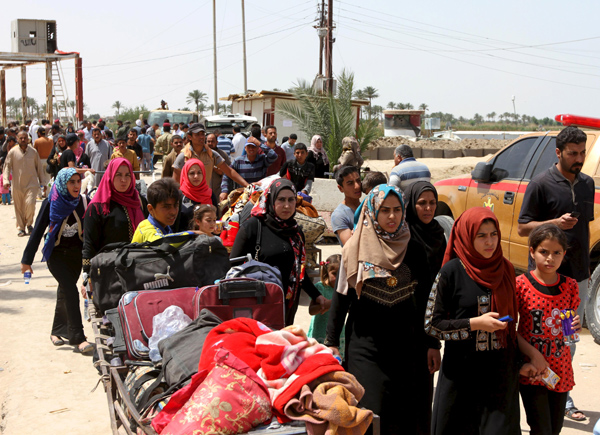 Displaced Sunni people, who fled the violence in the city of Ramadi, arrive at the outskirts of Baghdad, April 18, 2015. Iraqi security forces fought Islamic State militants at the gates of the western city of Ramadi on Friday, and local authorities warned it was in danger of falling unless reinforcements arrived soon. [Photo/Agencies]
WASHINGTON - The American people see Islamic State (IS) as a bigger threat to the US than Iran, Russia or other countries, a new CNN/ORC poll showed Wednesday.
The poll showed that 68 percent interviewees think ISIS is a very serious threat, compared with just 39 percent who think so about Iran, 32 percent about North Korea, 25 percent about Russia. Nearly 9 in 10 see ISIS as at least a moderately serious threat.
The majorities across political and ideological lines say ISIS is a deeply serious threat to the US, including 68 percent of Democrats, 79 percent of Republican and 63 percent of independents.
Last Sunday, six Somali-Americans from the state of Minnesota have been arrested by US Federal Bureau of Investigation for trying to join ISIS, raising concerns that the threat posed by the group is growing and the military battle against ISIS could spread.
In a CNN/ORC March poll, the public remained mostly confident that the US effort to combat ISIS would succeed, it also showed 79 percent of Americans were worried that the conflict would develop into a larger war that would spread throughout the region to other parts of the world.