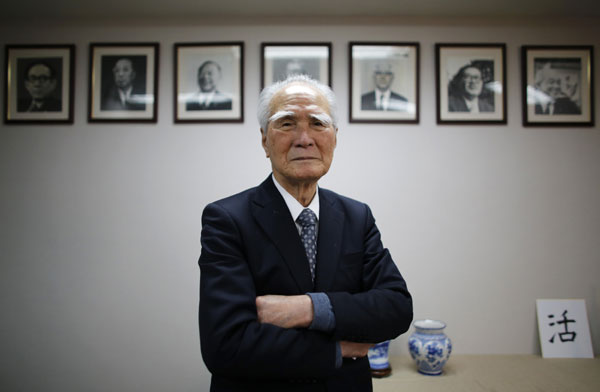 Former Japanese Prime Minister Tomiichi Murayama poses in front of portraits of former leaders of his Social Democratic Party after an interview with Reuters at the party headquarters in Tokyo March 10, 2015.[Photo/Agencies]
TOKYO, April 22 (Xinhua) -- Former Prime Minister of Japan Tomiichi Murayama criticized a statement made by Shinzo Abe that he will not repeat the wordings of"apology"and"aggression" in the 70th anniversary of WWII statement in August, local media reported Wednesday.
In a television interview late Monday, Abe said he does not feel it necessary to repeat the wordings of apology for Japan's wartime actions"now that I have said I will uphold"the statements issued by previous prime minister.
Regarding Abe's comment, Murayama said in a speech on Tuesday that Abe does not want to recognize Japan's colonial rule and aggression in his deep mind.
"That's the reason why he wants to refrain from repeating those wordings, as well as why people closely watch the tone of the statement,"Japan's Asahi Shimbun quoted Murayama as saying.
In what was seen as a prelude to the new statement, Abe, in the address to a summit of Asian and African leaders in Jakarta Wednesday, expressed Japan's"deep remorse" over the war, but did not offer a"heartfelt apology"to the people of Asian nations affected by Japan's"colonial rule and aggression"during and before the war.