Pharmacy lecturer uses her own skin to teach students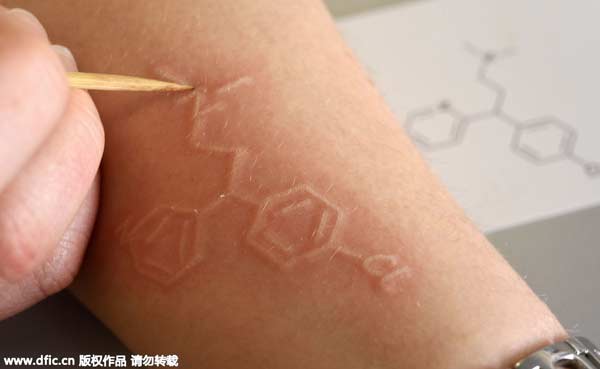 A pharmacy lecturer uses her skin to write formulae as she teaches students. [Photo/IC]
Dr Zoe Waller, 31, a pharmacy lecturer at the University of East Anglia in Norwich, England suffers from the skin condition dermatographia, a type of urticaria or hives, where a raised, itchy rash appears on the skin at the slightest pressure.
Instead of hiding her condition, Waller is using it as a teaching aid. Her students are required to learn 100 drugs for their course and each day, she will draw a new one on her skin.
She uses a blunt pencil or cocktail stick to create the detail needed for the composition of the drugs.
"Some people look at my arm and think I've been self-harming but it doesn't hurt at all," said Waller, who was diagnosed with the disease two years ago, "It's a pretty cool condition to have".
Inspired by Ariana Russell, an American artist who uses her own body and dermatographia to create artwork, Waller set up her project after discovering her condition after working at the university's school of pharmacy.
"My skin might not be like this forever but it's a fun and unusual way of teaching my students and it grabs their attention a lot more than a text book would," she said.
Dermographism, or "skin writing", is a type of urticarial which is caused when the cells under the surface of the skin release histamines as part of an allergic reaction, causing the skin to swell.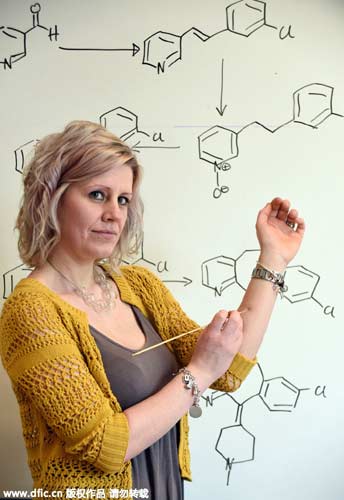 Zoe Waller teaches at the University of East Anglia. [Photo/IC]