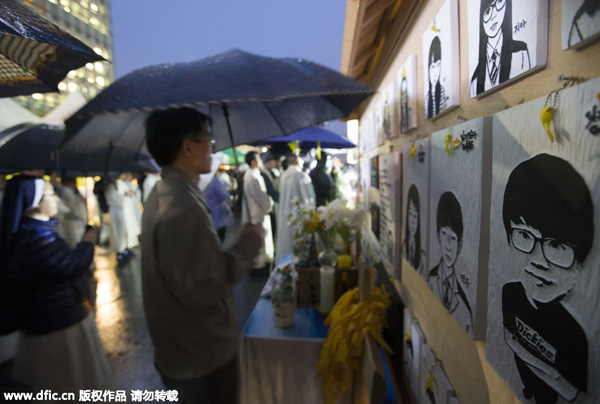 A man mourns the victims in the Sewol ferry sinking during the anniversary memorial ceremony in Seoul, South Korea, April 13, 2015. [Photo/IC]
ANSAN, South Korea - The bed is gone from Kim Dong-hyuk's room, but everything else remains as it was before the South Korean teenager drowned, along with 249 fellow students of the Danwon High School, when the Sewol ferry capsized last year.
Since the April 16 disaster, which killed a total of 304 people, many of the grieving parents in this industrial city on the outskirts of Seoul have left their lost children's bedrooms intact, unable to put away mementos and items of daily use.
From the desktop computer Dong-hyuk used to play games and a therapy machine for a skin allergy to the MP3 player found clutched in his dead son's hand, Kim Young-lae finds himself unable to give up his middle child's belongings.
Apart from the removal of the bed, the only change is the addition of a portrait of the 16-year-old.
"I sometimes talk to him in the picture," said a tearful Kim. "But I can't look at his eyes, Dong-hyuk's eyes, because I am still sorry."
Stuffed animals, books and clothes still clutter the bedrooms of many children lost when the Sewol sank near southwestern Jindo island during a pre-exam trip.