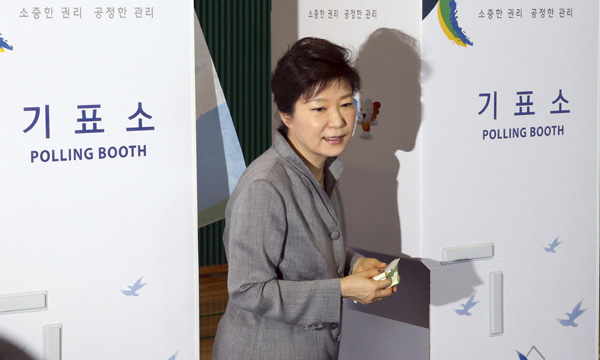 South Korean President Park Geun-hye walks out a voting booth after marking her ballots for the local elections at a polling station in Seoul June 4, 2014. [Photo/Agencies]
SEOUL - South Koreans on Wednesday voted for local elections, which are seen as a referendum on the Park Geun-hye administration after the deadly ferry sinking disaster.
The voting started from 6 am at 13,665 polling stations nationwide, continuing through 6 pm, according to the National Election Commission (NEC). The result of the voting was expected to be outlined at around 11 pm, five hours after the ballot counting works started.
South Koreans will elect a total of 3,952 officials, including 17 mayors, provincial governors and superintendents and 226 heads of low-level administrative units as well as some 3,700 local council members.
Voter turnout was 23.3 percent at noon, and it was expected to reach the mid-50 percent at the end. About 41.29 million people, or 80 percent of the country's total population, are eligible to vote.
During the two-day preliminary voting period, which ran through Saturday, the voter turnout hit a record high of 11.49 percent.
The sixth local elections will serve as a referendum on the incumbent government, which has been under harsh criticism since the ferry Sewol capsized and sank off the southwestern coast on April 16.
The administration under President Park Geun-hye has been criticized for the bungling of initial rescue operations and lax safety standards, which many claimed contributed to surging victims. The maritime disaster left more than 300 people, mostly high school students, dead or missing.
President Park, who took office in February 2013, saw her approval rating fall below 50 percent for the first time after the ferry disaster occurred.
Most candidates of the ruling Saenuri Party and the main opposition New Politics Alliance for Democracy (NPAD) offered campaign pledges of enhanced safety policy.
The election's outcome has been hard to predict as opinion polls indicated a tight race in many regions, including the Gyeonggi Province, which surrounds the capital Seoul and the western port city of Incheon.
The biggest battleground is Seoul where Mayor Park Won-soon of the NPAD is running for re-election against the ruling party's seven-term lawmaker Chung Mong-joon who has the highest stake in Hyundai Heavy Industries, the world's No.1 shipbuilder.
The Seoul mayoralty is often seen as a stepping stone to win the presidency. Former Seoul Mayor Lee Myung-bak was elected president in 2007.