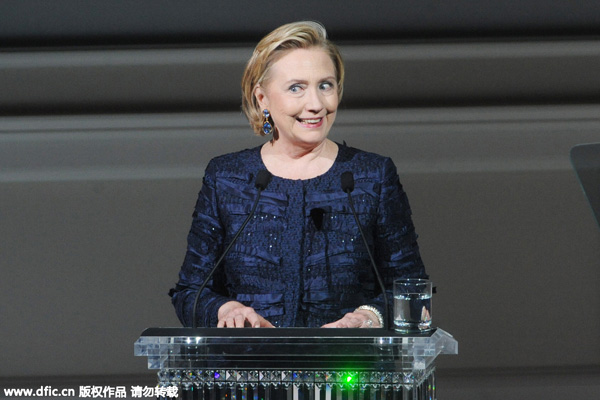 Former Secretary of State Hillary Rodham Clinton speaks on stage during the 2013 CFDA Fashion Awards at Alice Tully Hall in New York, June 3, 2013. [Photo/IC]
Clinton's message will focus on strengthening economic security for the middle class and expanding opportunities for working families. The campaign is portraying her as a strong leader who can get results and work with Congress, business and world leaders.
Clinton's strategy, described ahead of the announcement by two senior advisers who requested anonymity to discuss her plans, has parallels to Obama's approach in 2012. He framed his re-election as a choice between Democrats focused on the middle class and Republicans who sought to protect the wealthy and return to policies that led the country into recession.
Still, Clinton faces pressure from the progressive wing of her party to adopt a more populist economic message focused on income inequality. Some liberals remain skeptical of Clinton's close ties to Wall Street donors and the centrist economic policies of her husband's administration. They have urged her to back tougher financial regulations and tax increases on the wealthy, while opposing new international trade agreements such as the Trans-Pacific Partnership.
"It would do her well electorally to be firmly on the side of average working people who are working harder than ever and still not getting ahead," said economist Robert Reich, a former labor secretary during the Clinton administration.
But Clinton appears unlikely to face a formidable primary opponent, though a handful of lower-profile Democrats such as former Maryland Gov. Martin O'Malley have said they are considering campaigns.
Should she win the nomination, Clinton would face the winner of a crowded Republican primary field that could feature as many as two dozen candidates.
Kentucky Sen. Rand Paul, a favorite among libertarians, and Texas Sen. Ted Cruz, a champion of the ultraconservative tea party movement, have already entered the Republican race. Cuban-American Sen. Marco Rubio of Florida is expected to announce his bid to be the first Hispanic president on Monday.