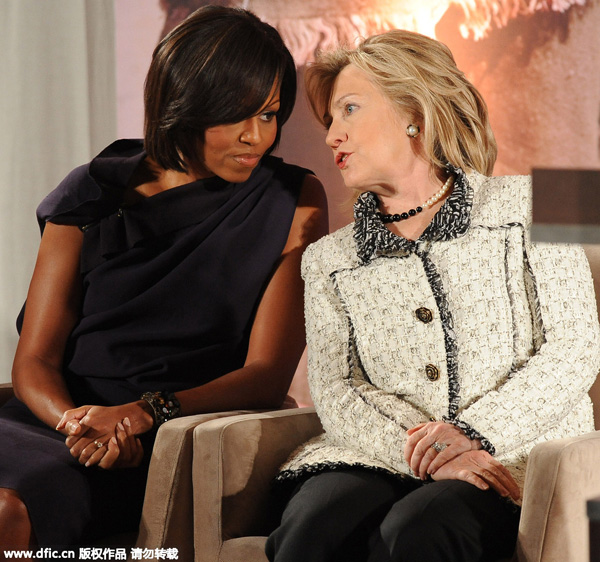 Secretary of State Hillary Rodham Clinton (R) and First Lady Michelle Obama participate in the International Women of Courage Awards ceremony at the State Department in Washington, March 8, 2011. [Photo/IC]
The 67-year-old Clinton brings a long public record to her second bid for the White House, a history that will both help and hurt her candidacy. Republicans were already pushing a message that seeks to attach her to the scandalous upheavals of her husband Bill Clinton's two-term presidency in the 1990s.
What's more, she intends to cast herself as a tenacious fighter determined to block the growing power of an increasingly right-wing Republican party that has sought to block Obama's agenda at every turn and now controls both chambers of Congress.
Obama said on Saturday that he thinks Clinton "would be an excellent president." After Obama defeated Republican Sen. John McCain in 2008, he named her secretary of state, a job she used in an attempt to rebuild US relations with countries around the world that had become critical of the American war in Iraq, which she had voted to authorize as a senator from New York.
Clinton enters the race with polls showing her in a strong position to succeed Obama. However, she will have to overcome history to win election. In the last half-century, the same party has held the White House for three consecutive terms only once, during the administrations of Republicans Ronald Reagan and George H.W. Bush.
Republicans will try to counter Clinton's strong resume by casting her as someone who is not trustworthy. Republicans have jumped on her use of a personal rather than a government email account and a server located in her New York home while she was secretary of state. They have also raised questions about donations from foreign governments to the Clinton family's foundation. She remains under fire from Republicans over her handling of the September 2012 terrorist attacks in Benghazi, Libya, that took the lives of the US ambassador and three other Americans.
Republicans did not wait for Clinton's announcement to campaign against her. The party's chairman Reince Priebus said that voters could not trust Clinton and her election would be tantamount to giving Obama a "third term."
"Clinton's announcement comes in the shadows of looming investigations over deletion of State Department records and suspicious foreign donations," Priebus said. "For weeks Clinton has stonewalled the American public on unanswered questions around these many scandals. As an official candidate, Clinton must come clean with the American people."
Some Republicans sought to make foreign policy an issue at a time when the Obama administration is negotiating a nuclear deal with Iran and moving to restore diplomatic relations with Cuba.
"We must do better than the Obama-Clinton foreign policy that has damaged relationships with our allies and emboldened our enemies," said former Florida Gov. Jeb Bush, in his own online video Sunday. Bush, the brother and son of former presidents. is widely expected to join the race for the Republican nomination.
In the face of those negatives, Clinton has huge support among Democrats, and supporters began building a campaign base well before the official announcement.