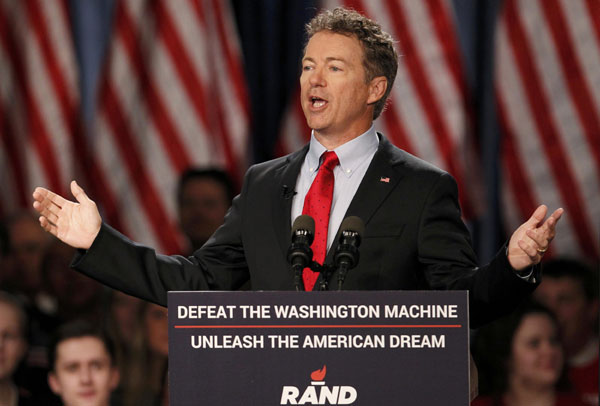 US Senator Rand Paul (R-KY) formally announces his candidacy for president during an event in Louisville, Kentucky, April 7, 2015.[Photo/Agencies]
WASHINGTON - US Senator Rand Paul on Tuesday officially threw his hat in the ring for the 2016 White House run, depicting himself as the opposite to "career politicians," and said he could "beat the Washington machine."
"Washington is horribly broken. I fear it can't be fixed from within," Paul told a cheering crowd during his rally at Louisville, Kentucky. "Too often when Republicans have won, we have squandered our victory by becoming part of the Washington machine. That's not who I am."
Serving his first term in Senate, the former eye surgeon from Kentucky boasts a reputation for challenging the Republican establishment and is therefore often viewed by many as leaning to the Tea Party Movement.
"It seems to me that both parties and the entire political system are to blame," said Paul at the rally. "I have a message, a message that is loud and clear and does not mince words. We have come to take our country back."
Paul is so far the second contender across the aisle to announce the 2016 presidential candidacy. Texas Republican Senator Ted Cruz, a darling of the conservative Tea party, announced his White house bid on March 23.
Paul, who entered Congress on the Tea Party wave in 2010, aimed at garnering allegiance from not only mainstream voters but minorities and young voters, whom the Republican Party failed to win over in past elections.
"The message of liberty, opportunity and justice is for all Americans, whether you wear a suit, a uniform or overalls, whether you're white or black, rich or poor," Paul said.