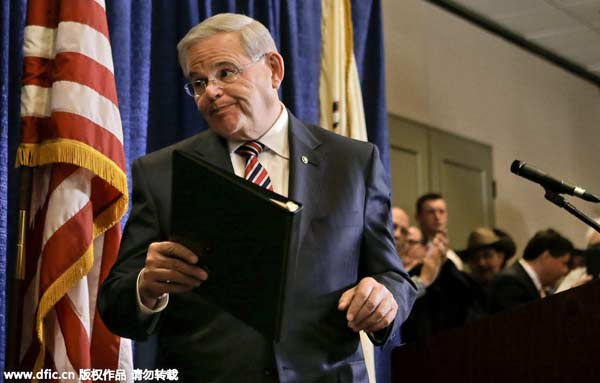 Senator for New Jersey Robert Menendez leaves the podium following a press conference where he responded to a federal indictment against him at a hotel in Newark, New Jersey, United States, April 1, 2015. [Photo/IC]
WASHINGTON - US Department of Justice (DOJ) on Wednesday indicted New Jersey Democratic Senator Robert Menendez, one of the highest-ranking Hispanic members of Congress, on corruption charges.
Menendez, 61, was indicted in the District of New Jersey along with his friend, Florida ophthalmologist Dr. Salomon Melgen, in connection with a bribery scheme, the Department of Justice said in a statement.
The two were charged with one count of conspiracy, one count of violating the travel act, eight counts of bribery and three counts of honest services fraud, the statement said, adding the senator "was also charged with one count of making false statements."
Menendez and Melgen "were indicated today in connection with a bribery scheme in which allegedly accepted gifts from Melgen in exchange for using the power of his Senate office to benefit Melgen's financial and personal interests," the statement said.
Between January 2006 and January 2013, "Menendez accepted close to $1 million worth of lavish gifts and campaign contributions from Melgen in exchange for using the power of his Senate office to influence the outcome of ongoing contractual and Medicare billing disputes worth tens of millions of dollars to Melgen and to support the visa applications of several of Melgen's girlfriends," the statement said, citing allegations in the indictment.
Menendez, native New Jersey of Cuban heritage, has denied any wrongdoing. He was first elected to Congress in 1992, and spent 13 years in the US House of Representatives. Menendez was re-elected to a second term in the Senate in 2012 and serves as the ranking member on the Senate Foreign Relations Committee.
FBI agents and federal prosecutors have spent more than two years investigating his relationship with Melgen, a Democratic donor accused of overbilling the government's Medicare program.
Menendez's office said the senator is expected to hold a news conference at 7 pm (2300 GMT) in New Jersey.