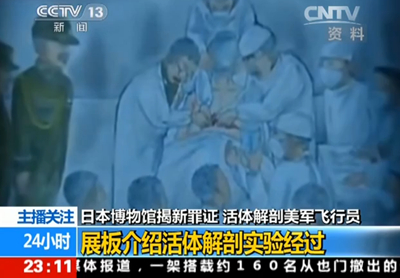 A still, captured from a report broadcast by China Central Television (CCTV), shows an exhibit set up at the Kyushu University Medical Science museum in Japan that shows evidence of university faculty members conducting a vivisection on a captured US pilot in 1945. [Photo: cntv.com]
A newly-opened Japanese museum has revealed evidence on the vivisection of eight US pilots during the World War II, the Beijing Times reported on Monday.
The museum, opened on April 4, sits in the campus of Kyushu University in Japan. It features the history of medical science of the university in the past 110 years.
One of the notable exhibits at the museum features two items showcasing the evidence of eight US pilots vivisected by professors of the university in 1945.
The victims are believed to be among a number of pilots captured by the Japanese after the island nation's military forces shot down a US military B-29 bomber.
The exact number of the missing US servicemen is still unknown.
During the so-called medical experiments, several professors injected diluted sea water into the pilots and dissected their lungs and other organs to observe how long the victims would live after the "operation," according to the exhibit.
All eight pilots eventually died.
One professor committed suicide when the war ended; another 14 faculty members were sentenced to life-in-prison or handed the death penalty for committing war crimes.
Kyushu University has kept silent on this part of the school's history for quite a long time.
But in March, a number of professors at the university agreed to face up to the campus's 'dark history.'