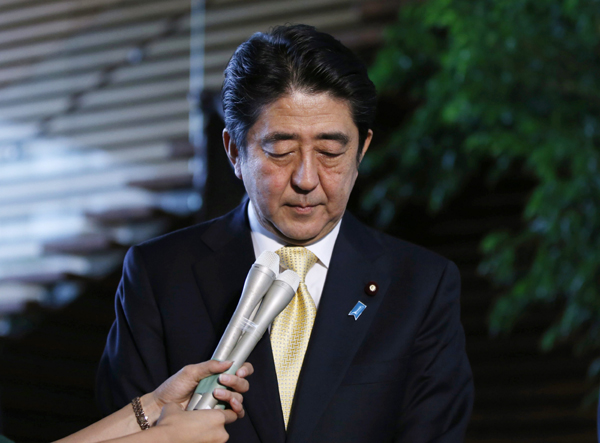 Japan's Prime Minister Shinzo Abe reacts as he speaks to the media at his official residence in Tokyo in this Oct 20, 2014 file photo. [Photo/Agencies]
In sharp contrast to Japanese Prime Minister Shinzo Abe's hint that his statement on Aug 15 may deviate from former Japanese prime minister Tomiichi Murayama's statement admitting Japan's war atrocities in World War II, Japanese Crown Prince Naruhito stressed the need to remember WWII "correctly" during a news conference ahead of his 55th birthday on Monday. His words were seen by many as a rebuke to those right-wing political figures in Japan who insistently seek to whitewash Japan's wartime atrocities.
In remembering the war correctly, the biggest lesson one can draw is that extremism and aggression are doomed to fail when those that oppose them unite.
Formed after the war, the United Nations is the most representative and authoritative international organization, and it has helped maintain world peace and promote transnational cooperation over the last seven decades. And China remains committed to the purposes and principles of the UN Charter, as Chinese Foreign Minister Wang Yi said on Monday while chairing a UN ministerial-level open debate to reflect on history.
The UN Charter which features the principles of sovereign equality, non-interference in internal affairs and respect for territorial integrity, lays the legal foundation for global governance.
China's reaffirmation of its peaceful stance and commitment to the UN Charter can be seen as an active response to today's forces of extremism and its upholding of the postwar order.
On the one hand, highlighting the UN's central role in keeping postwar global order, Beijing is showing its respect for the current international law and basic norms governing contemporary international relations.