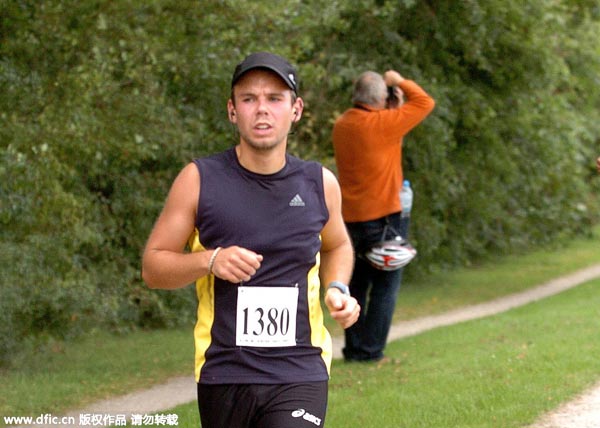 A picture made available March 27 2015 shows Andreas Lubitz, co-pilot of Germanwings flight 4U9525, running the Airportrace half marathon in Hamburg, Germany, Sept 13, 2009. [Photo/IC]
PARIS --- The co-pilot of the doomed Germanwings flight repeatedly sped up the plane as he used the automatic pilot to descend the A320 into the Alps, the French air accident investigation agency said Friday.
The chilling new detail from the BEA agency is based on an initial reading of the plane's "black box" data recorder, found blackened and buried at the crash site Thursday.
It strengthens investigators' initial suspicions that co-pilot Andreas Lubitz intentionally destroyed the plane _ though prosecutors are still trying to figure out why. All 150 people aboard Flight 9525 from Barcelona to Duesseldorf were killed in the March 24 crash.
The BEA said the preliminary reading of the data recorder shows that the pilot used the automatic pilot to put the plane into a descent and then repeatedly during the descent adjusted the automatic pilot to speed up the plane.
The agency says it will continue studying the black box for more complete details of what happened. The Flight Data Recorder records aircraft parameters such as the speed, altitude, and actions of the pilot on the commands.
Based on recordings from the plane's other black box, the cockpit voice recorder, investigators say Lubitz locked the pilot out of the cockpit and deliberately crashed.