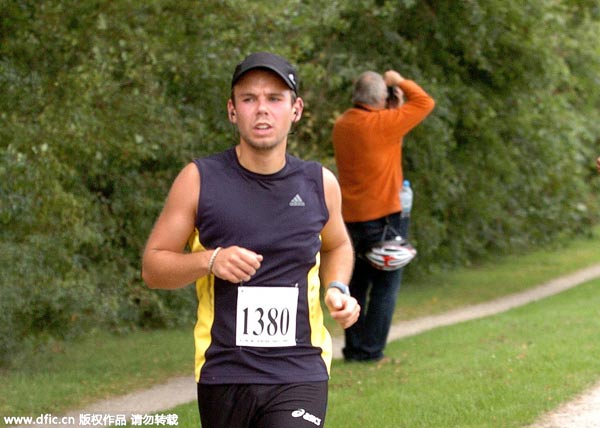 A picture made available March 27 2015 shows Andreas Lubitz, co-pilot of Germanwings flight 4U9525, running the Airportrace half marathon in Hamburg, Germany, Sept 13, 2009. [Photo/IC]
BERLIN/LE VERNET, France - A video of the final seconds aboard the Germanwings plane that crashed in France last week has been discovered, reports said on Wednesday, just hours before executives visiting the crash site dodged questions about the mental health of the pilot.
The video was found on a mobile phone belonging to one of the passengers killed on the plane which investigators say German pilot Andreas Lubitz deliberately flew into a mountain in the French Alps, Bild newspaper reported.
The scenes seen on the video were chaotic and very wobbly, said Bild, adding screams and shouts of "My God" could be heard, indicating the passengers knew what was happening.
Prosecutor Brice Robin, who is handling the case in France, said the phones collected from the crash had yet to be analysed and were being kept on site. France's BEA investigation authority could not immediately be reached for comment.
On the video, which Bild described as being "indisputably authentic", a banging of metal could be heard at least three times, possibly the sound of the pilot who had been locked out of the cockpit by Lubitz trying to break through the door.