Annual blue book also includes a reference to 'deep remorse' over war, Kyodo News reports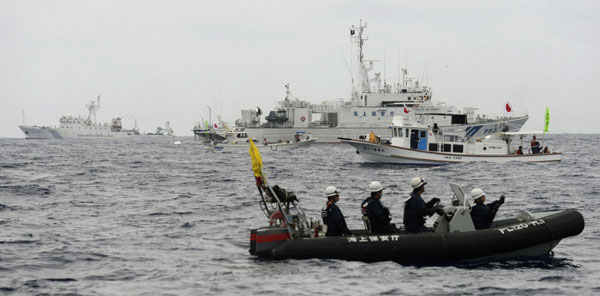 Chinese marine surveillance ship Haijian No. 46 (L) tries to approach towards Japanese fishing boats (2nd and 3rd from front) while a Japan Coast Guard boat sails (front), in the East China Sea, near Diaoyu islands, in this photo taken by Kyodo May 26, 2013. [Photo/Agencies]
The Foreign
Mini
stry rebutted on Wednesday the latest Japanese accusation that China had "unilaterally" changed the status quo in the East China Sea.
The accusation is part of a draft of the Japanese government's 2015 foreign policy report, known as the blue book, set to be published by Tokyo. Its contents were revealed by Kyodo News.
"The facts about the Diaoyu Islands are clear," the spokeswoman, Hua Chunying, said. "It is nobody but Japan itself who has taken unilateral measures to change the status quo and create trouble."
The draft also touches on Japanese aggression in the 1930s and 40s. Japan has held to a path of pacifism for 70 years since the end of World War II based on its "deep remorse" over the war, Kyodo quoted the draft as saying.
The move to include the expression "deep remorse" aims to give an impression that the administration of Japanese Prime Minister Shinzo Abe is facing history squarely, Kyodo quoted political pundits as saying.
Hua said the historical issues go to the root of China-Japan relations, and she urged Japan to establish credibility in Asia and the international community with sincere acts.
In the draft report, China is criticized for its continued efforts to "unilaterally change the status quo at sea", while Japan remains determined to protect its territorial sovereignty, including seas and airspace, amid China's maritime "incursions" near the islands in the East China Sea, Kyodo reported.
Tokyo claimed to have "nationalized" part of the Diaoyu Islands in 2012, triggering a deep chill in relations between the two neighbors that resulted in regular patrols of Chinese vessels in waters around the islands.
Hua said China will firmly safeguard its territorial sovereignty as it continues to be committed to controlling and resolving the islands issue through dialogue and negotiation.
She urged Japan to face history squarely, respect facts and make constructive efforts to properly resolve the issue.
Lyu Yaodong, an expert on Japanese policies at the Chinese Academy of Social Sciences, said China's vessels are patrolling their own waters, and Tokyo's allegations about China were aimed at confusing right and wrong.
Japanese Foreign Minister Fumio Kishida is expected to present the report to the Japanese Cabinet next week. It will be translated into English for the first time in nine years, "reflecting the ministry's efforts to offer more information outside Japan", Kyodo said.
The allegations against China in the report will likely sour the relationship, which has not fully recovered despite recent signs of a thaw, Lyu said.
In March, the foreign ministers of China, Japan and South Korea met for the first time in nearly three years. Foreign Minister Wang Yi told his Japanese counterpart that Japan's attitude toward the aggressive war it waged has a direct effect on Tokyo's ties with its neighbors.
zhaoshengnan@chinadaily.com.cn