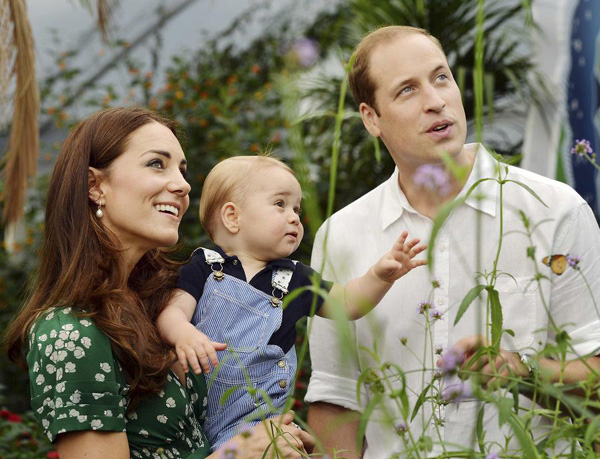 Britain's Catherine, Duchess of Cambridge, carries her son Prince George alongside her husband Prince William as they visit the Sensational Butterflies exhibition at the Natural History Museum in London, in this July 2, 2014 file photo. [Photo/Agencies]
LONDON - The Queen has approved a decision to create a five-pound coin to mark the birth of the second baby of Prince William and Kate, local media reported Tuesday.
So far, the detail of the new coin has not been revealed, and it is expected to be launched after the birth of the new royal baby.
The date of the birth will be in the mid to late April, according to reports.
The Royal Mint produced 10,000 five-pound coins and 2,013 22 carat gold christening coin when the new baby's brother Prince George was born in 2013. Both of those commemorative coins were very popular and sold within days. Another new coin had also been made to mark his one-year-old birthday.
Prince George is the first member of the British royal family whose baptism and one year birthday have been honoured in this way, local media said.