Lee Kuan Yew, as the founding father of Singapore, left abundant political legacies behind, from which this Southeastern Asian country is still benefit.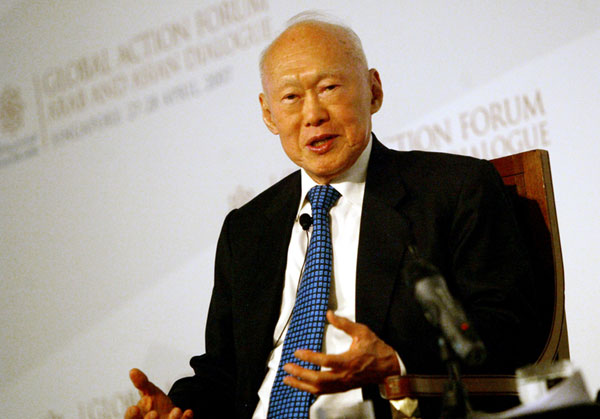 Singapore's Minister Mentor Lee Kuan Yew speaks to the audience during the Arab and Asian dialogue in Singapore April 27, 2007.[Photo/IC]
Attaching much importance to legislation
One of the major ruling concepts promoted by Leeis legislation, to which he attached much importance. He believed that legislation provides the basic framework for social stability and development.
He thought that law needs to demonstrate humanity and respect people's rights, however law also should limit abuse of power, which will lead to the falling apart of the social order. One of Lee's abiding beliefs has been in the efficacy of corporal punishment in the form of caning.
Original thought on democracy
Lee's policies and way of governance came under much criticism from the West due to his way of limited democracy, but he had his original opinions in terms of democracy.
"I have never been over-concerned or obsessed with opinion polls or popularity polls." Lee once said, "between being loved and being feared, I have always believed MachiavelLee was right. If nobody is afraid of me, I am meaningless."
He holds that once people chose their leaders, they have to accept the legislation that the leaders enact and make an effort together to achieve the goal of development. Political leaders have to present all of the significant issues to people and also stay loyal to people. He thought that was the true meaning of the democracy.
Promoting economic development
Lee encouraged innovation and opening to the outside world. He said that the quality of a nation's manpower resources is the single most important factor determining national competitiveness. It is the people's innovativeness, entrepreneurship, team work, and their work ethic that gives them that sharp keen edge in competitiveness.
Under his ruling, the implementation of internationalized economic polices has made Singapore one of the most important manufacturing bases of export and import.
He promoted development of infrastructure and forged Singapore into an oasis of development. Singapore also makes full use of the advantages of being a port of reshipment and provides international and authorized financial service.
Universal military service
Lee asked to build up the Singapore Armed Forces (SAF) and requested help from other countries, particularly Israel, for advice of training and facilities. Lee introduced conscription, whereby all able-bodied male Singaporean citizens age 18 and above are required to serve National Service (NS) either in the Singapore Armed Forces, Singapore Police Force or the Singapore Civil Defence Force.
Unique social welfare system
Lee carried forward the system of Central Provident Fund, which is a compulsory comprehensive savings plan for working Singaporeans and permanent residents, primarily to fund their retirement, healthcare and housing needs.
Emphasizing importance of knowledge
Lee set English as Singapore's first official language and Chinese as the second to let people form an English thought pattern. He emphasizes the importance of knowledge in economic transformation but also rejects the classical separation between scholarship and entrepreneurship.
"Those with good minds to be scholars should also be inventors, innovators, venture capitalists, and entrepreneurs; they must bring new products and services to the market to enrich the lives of people everywhere," he said.
Encouraging people to accept immigrants
Lee welcomed immigration and called for Singaporean citizens to assist them to fit in their new environment. He said in 2011 that Singapore could try to introduce 20,000 to 25,000 immigrants and adjust the number with the aging population.