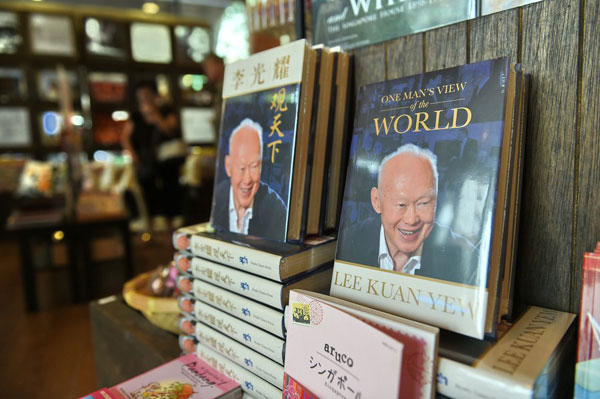 The books by Lee Kuan Yew on display at a book store in Singapore on March 20, 2015.Photo/Agencies]
SINGAPORE - Singapore's former Prime Minister Lee Kuan Yew remains critically ill, said Singapore's Prime Minister's Office (PMO) in the latest press release on Friday.
Singapore's Prime Minister Lee Hsien Loong "would like to thank the public for their support and good wishes," the release said.
Lee Kuan Yew's worsening condition was first announced on Tuesday, when Singapore's PMO said he had an infection and was being treated with antibiotics. It said doctors were monitoring his condition.
Lee, 91, has been in hospital since Feb. 5 with severe pneumonia. On Feb. 28, the PMO said his condition had improved slightly, and he remained on antibiotics. It also said he continued to be sedated and on mechanical ventilation.