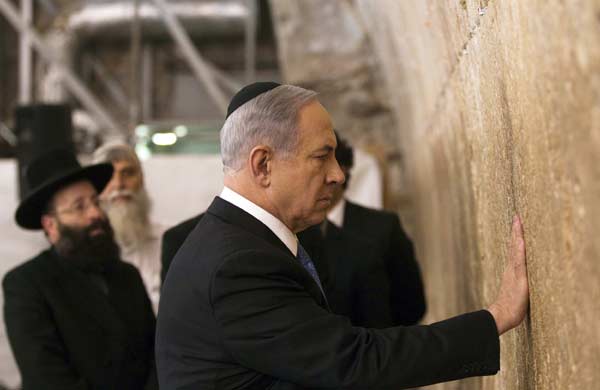 Israel's Prime Minister Benjamin Netanyahu touches the stones of the Western Wall, Judaism's holiest prayer site, in Jerusalem's Old City March 18, 2015. [Photo/Agencies]
WASHINGTON -- US-Israel relations are likely to remain strained after Benjamin Netanyahu's electoral win this week, as the Israeli leader and the White House have butted heads for several years now, US experts said.
"I think we can expect continuing friction in US-Israeli relations following these elections, particularly given the comments made by Prime Minister Netanyahu at the final stages of the campaign opposing a Palestinian state," Dalia Dassa Kaye, director at the RAND Corporation's Center for Middle East Public Policy, told Xinhua.
Kaye was referring to Netanyahu's opposition to the establishment of a Palestinian State. He believes that Islamist radicals would use Palestinian territories to launch attacks on Israel.
"This, following the increased politicization of the relationship after Netanyahu's (recent) speech to (the US) Congress earlier this month, does not bode well for an easing of tensions," she said.
The speech was arranged by Republican House Speaker John Boehner without consulting the White House in a break from protocol that irked US President Barack Obama, who boycotted the nationally televised address.
What is troubling is how to support for Netanyahu has become a partisan issue in the US, with a win for the Israeli leader viewed as a win for the Republican Party, Kaye said.
"This is not a healthy development for US-Israeli relations over the longer term," she said.
Indeed, there is a fundamental and cavernous gap between how Netanyahu and the White House view troubles in the Middle East and how to solve them.
Obama's White House takes a liberal view of Middle East security issues in which engaging enemies, negotiating differences and diplomatic agreements take a higher priority than defending the security interests of allies, according to experts.
But Netanyahu has a much more conservative view about the need to protect Israeli security interests, said James Phillips, a Middle East expert at Heritage Foundation.