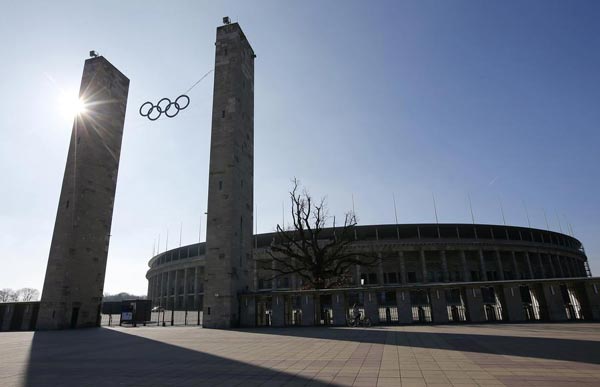 The main entrance of the Olympic stadium is pictured with the Olympic rings in Berlin, March 9, 2015. Berlin, which staged the Games in 1936, and Hamburg are battling for the green light from the German sports authorities to launch a bid for the 2024 or 2028 summer Olympics. German Olympic officials selected Hamburg over Berlin on Monday to host the 2024 Games, provided Germany is the winner. [Photo/Agencies]
FRANKFURT, Germany - German Olympic officials selected Hamburg over Berlin on Monday to bid for the 2024 Olympics, adding a third international contender to what is shaping up as a high-profile field.
The 10-member board of Germany's national Olympic committee announced its recommendation after a day of deliberations.
The decision is expected to be ratified Saturday at the committee's general assembly. It also has to pass a referendum expected to be held later this year in Hamburg, a port city in northern Germany.
A recent poll commissioned by the committee had 64 percent of Hamburg residents backing an Olympic bid, while only 55 percent of citizens of the capital supported a candidacy.
Opponents of the Hamburg bid already have announced plans to campaign against the Olympics.
Both cities presented their case over the weekend and the Olympic committee consulted on Monday with representatives from sports, politics, industry and other groups.
"Both cities presented excellent concepts," committee president Alfons Hoermann said in announcing the decision. "Hamburg has a fascinating and compact concept that fits excellently into the IOC reform process."
Only seven members of the board took part in the vote and Hoermann indicated the decision was not unanimous, without giving the breakdown. Hoermann said he abstained from voting.
Of the 33 German sports federation, 18 favored Hamburg, while 11 supported Berlin, with four having no preference, Hoermann said.
Hamburg will need to build more facilities than the capital, which hosted the 1936 Olympics.