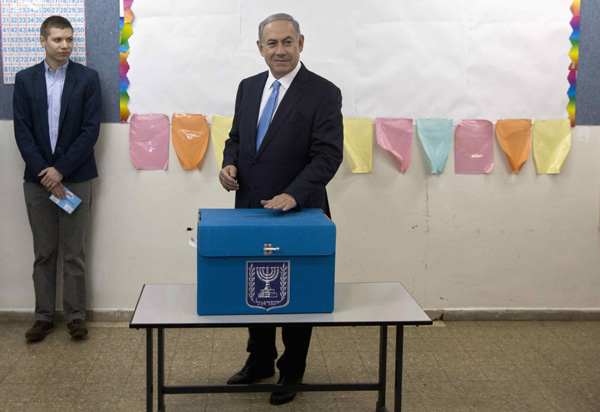 Israel's Prime Minister Benjamin Netanyahu casts his ballot for the parliament election as his son Yair stands behind him at a polling station in Jerusalem March 17, 2015. [Photo/Agencies]
JERUSALEM - Israelis were voting in parliament elections Tuesday, after a heated campaign focused on economic issues such as the high cost of living rather than fears of a nuclear Iran or the Israeli-Arab conflict.
Prime Minister Benjamin Netanyahu is seeking a fourth term in office, but it will likely take weeks of coalition talks after the vote to determine whether he stays in power or is being unseated by Isaac Herzog of the centrist Zionist Union.
In a last-minute appeal to his hard-line base, Netanyahu said Monday that a Palestinian state would not be established on his watch, going back on long-standing promises to the United States. The remarks could further strain troubled ties with Washington.
Herzog, meanwhile, signaled he is going back on what was perceived as an unpopular power-sharing deal with the co-leader of the Zionist Union, former Foreign Minister Tzipi Livni. Under that deal, Herzog and Livni would each have served as prime minister for two years if they won the elections.
In Tuesday's balloting, voters are electing a 120-member parliament, casting ballots for a party list, rather than individual candidates. After the vote, it typically takes weeks of negotiations for a governing coalition to be formed.
Herzog's party has been polling slightly ahead of Netanyahu's Likud, but neither political camp has a clear majority. Israel's political landscape is fractured, and several centrist parties will likely determine who will be the next prime minister.
After voting Tuesday, Netanyahu ruled out a coalition with Herzog and reiterated in an interview with Israel TV's Channel 10 that a Palestinian state would not be established on his watch.
Herzog, who has vowed to revive peace efforts with the Palestinians, repair ties with the US and reduce the growing gaps between rich and poor, confidently predicted an "upheaval" was imminent.
About LIKUD PARTY
The right wing Likud party has been in power since 2009. It campaigns on security issues, with Netanyahu maintaining hardline stances on Iran's nuclear program as well as the Palestinians.
The party has been criticized for lacking an agenda on socio-economic issues such as high living costs and housing crisis.
In the 2013 elections, Likud joined forces with Foreign Minister Avigdor Lieberman's Israel Beytenu party and the two received 31 seats together (20 for the Likud), with a significant lead over their nearest contender, the Yesh Atid party, which got 19 seats. Israel Beytenu broke its union with the Likud in July 2014.
About ZIONIST UNION
The Zionist Union is a joint list combining the historic left-wing Labor party, headed by parliament member Isaac Herzog, and centrist Hatnua (The Movement), a two-year old party led by former Justice Minister Tzipi Livni.
The alliance was formed in December 2014, aiming to be an alternative to the Likud's rule.
Herzog has pledged to stop the Jewish construction outside major settlement blocs in the Palestinian territory, and to "reignite" the negotiations with the Palestinians.
He also emphasized his economic platform, which promises to restrain the high cost of living in the country, particularly the housing prices.
Latest polls showed that the Zionist Union is maintaining a four seat advantage over Likud.