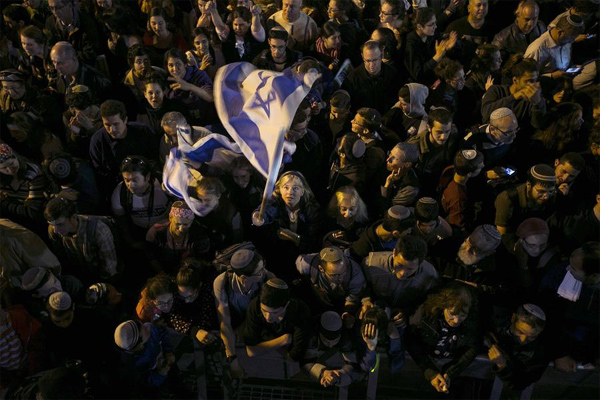 Israelis attend a right-wing rally in Tel Aviv's Rabin Square ahead of the coming election March 15, 2015. [Photo/Agencies]
TEL AVIV, Israel - Thousands of rightwing Israelis gathered at a square in central Tel Aviv Sunday to show support for Prime Minister Benjamin Netanyahu whose bid for reelection in Tuesday's elections has met a strong challenge from the opposition camp.
At the rally, Netanyahu called on Israelis to vote for his rightwing Likud party, which has lagged behind the center-left Zionist Union in opinion polls.
"This is a fateful struggle, a close struggle. We must close this gap. We can close this gap," Netanyahu said.
Friday's polls showed that the Zionist Union, consisting of the Labor party and the Hatnua party, led the Likud party with four seats. If the prediction reflects the reality, the Zionist Union would emerge as the biggest winner of seats in the new parliament and gain the right to form the new cabinet.
In his speech, Netanyahu again strongly attacked the stance of the Zionist Union's leaders on the Israeli-Palestinian conflict, warning voters of "a real danger" of the leftwing government being elected into power.
He accused Issac Herzog and Tzipi Livni, co-leaders of the Zionist Union, of objecting the building of Jewish settlements in the West Bank and east Jerusalem, and agreeing to the Palestinians ' demand that east Jerusalem will be the capital of their future state.
"We preserve a unified Jerusalem. We're building in Jerusalem. That is not the way of the left, or Tzipi and Bougie," said Netanyahu to sounding applause, referring to Livni and Herzog by their nicknames.
Netanyahu also denounced overseas financial support for a left- wing organization and repeated his warning that a government led by the Zionist Union would ally with the Israeli Arab parties.
"A fortune was funneled from abroad to the left-wing organization V15, with one goal, to replace the government led by me with a government led by Tzipi and Bougie, supported by the joint Arab party," he said.
Organizers of the rightwing rally said the event was in response to a massive leftwing gathering at the same square where former Prime Minister Yitzhak Rabin was assassinated for his efforts to make peace with the Palestinians.
As petitioned by leftwing parties, the Supreme Court Justice, Salim Jubran, prohibited organizers from using any public funds to finance the event, due to its political nature.