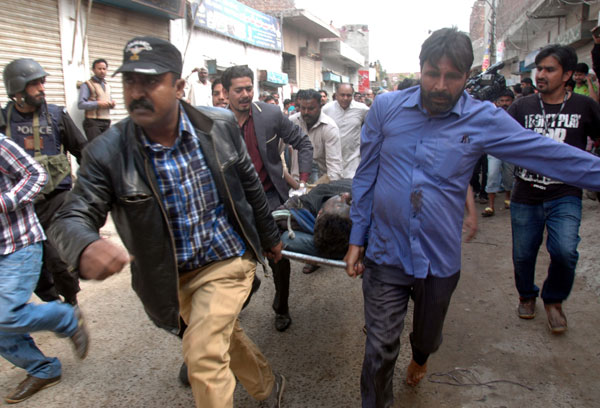 People carry an injured person on a strecher after a suicide attack in Lahore March 15, 2015.[Photo/Xinhua]
LAHORE, Pakistan - Bombs outside two churches in the Pakistani city of Lahore killed 14 people and wounded nearly 80 during Sunday services, and witnesses said quick action by a security guard prevented many more deaths.
Deputy Inspector General Police, Haider Ashraf, told reporters that two suicide bombers blew themselves up at the main gate of Roman Catholic Church and Christ Church, located within a distance of one kilometer in Youhanabad area of Lahore, the capital city of the country's east Punjab province.
The attackers wanted to enter the churches but detonated their explosive vests after being stopped by the policemen at the gate, killing 14 people, including two policemen and a child.
Witnesses said unidentified gunmen opened fire at the churches and fled the scene before the explosions.
Police arrested two suspects, including one who was allegedly giving instructions to the suicide bombers.
Enraged Christians, who were praying inside a church, took the suspects from police custody, beat both of them to death and burnt their bodies.
Angry protesters also took to streets in the city and blocked roads to protest against the attacks.
Jammatul Ahrar, a splinter group of Tehreek-e-Taliban Pakistan, claimed responsibility for the attacks, saying Christian were their enemies.
The group's spokesperson Ehsanullah Ehsan also threatened to launch more attacks.