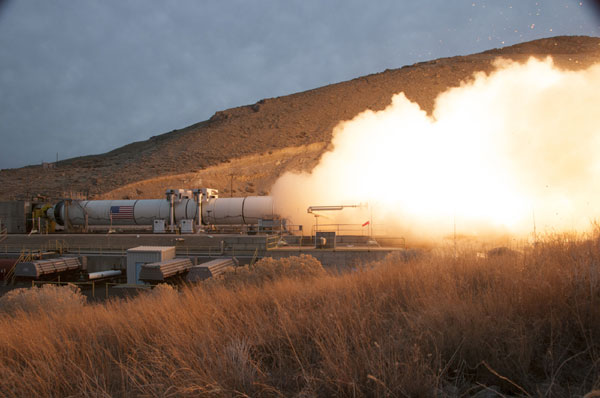 The SLS five-segment Solid Rocket Motor undergoes a static test fire at the Orbital ATK facility in Promontory, Utah, in this handout photo provided by NASA, March 11, 2015. [Photo/Agencies]
CAPE CANAVERAL, Fla. - A beefed-up space shuttle solid rocket motor passed a two-minute test firing in Utah on Wednesday, a key milestone toward the debut flight of NASA's deep-space launcher in 2018, the US space agency said.
Anchored horizontally to a test stand in the desert in Promontory, Utah, the five-segment motor, built by Orbital ATK , ignited at 9:30 am local time (1530 GMT).
Bright flames shot out the rear of the rocket for two minutes, marking the first full-duration burn of the enhanced solid-fuel shuttle booster rocket, a live NASA Television broadcast showed.
"It looked really clean. We're very excited. Great result," said Charlie Precourt, an Orbital ATK vice president and former NASA astronaut.
The 177-foot (54-meter) motor is 25 percent more powerful than the four-segment engines used to help lift the space shuttle. The shuttles were retired in 2011 after 135 flights, two of which ended in disaster.
Several shuttle-era components are being incorporated into the new rocket program, known as the Space Launch System. The motor tested on Wednesday included hardware flown on the first shuttle mission in 1981, NASA spokeswoman Stephanie Schierholz said.