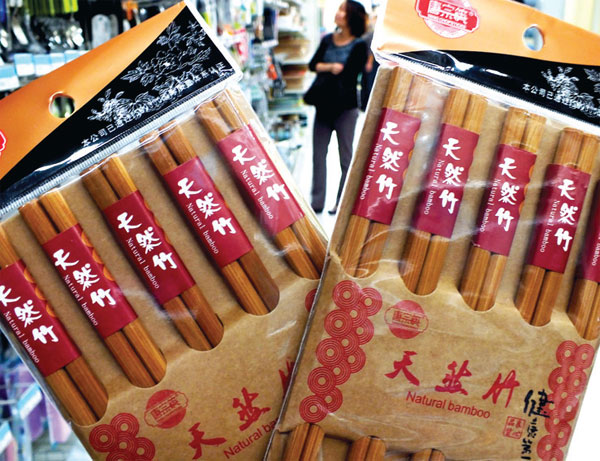 Chopsticks are sold at a supermarket in Yichang, Central China's Hubei province on Oct 24, 2013. Liu Junfeng / Asia News Photo
Chopsticks have been around for thousands of years and represent one of the most quintessential symbols of Asian cultures. Yet when Qingjia Edward Wang looked for information on the utensils to share with his young son, he found very little in English and only a few books in Japanese and Chinese.
Wang, a history professor and coordinator of the Asian Studies program at Rowan University in Glassboro, New Jersey, began to research the topic in 2010. In January the Cambridge University Press published his book, Chopsticks: A Cultural and Culinary History.
"For the last 20 years I have been focusing on historiography (the study of how history is written over time). I believe that historians have started to pay more attention to the everyday life of common people rather than just focus on political and military leaders. It seems to me that chopsticks are a good example of an essential item in everyday life that deserves more study," he told China Daily in an interview.
Wang said archaeological findings from China dating back to 5,500 BC show the existence of chop sticks or a very close facsimile. "At a cultural site they found 42 pairs of sticks made from animal bones. Archaeologists believe the sticks were mainly used for eating," he said.
Wang also said that chopsticks were mentioned in Asian writings dating back to the third century BC.
Chopsticks used by the Chinese, Japanese and Koreans have changed little over the years, but there are differences in length and surfaces. "Japanese chopsticks are shorter - about 18-20 centimeters long. The Chinese and Vietnamese chopsticks are longer. The Chinese chopsticks are about 25 centimeters long."
Wang said one reason why the Japanese use shorter sticks is that they traditionally don't share food when they eat. There are other differences in chopsticks that reflect geography. Chopsticks in China have a more flat surface because it's easier to pick up stir fry. In Japan they are more pointed to eliminate bones from fish.
Many in the West wonder why Asian cultures haven't adopted the knife and fork for eating. Wang said there are cultural and culinary reasons why Asians prefer chopsticks.
"In the third century BC, it wasn't civilized to have utensils with sharp edges like knives and forks on the table. Those belonged in the kitchen," he said.
As for the culinary reasons why Asians favor chopsticks, Wang said the popularity of stir-frying eliminated the need for a knife at the table. "In stir frying the food is already served in bite-size portions so you don't have to do any work to consume the food."
Wang said the popularity of Buddhism and a vegetarian diet also contributed to the dominance of chopsticks in Asia. "The Chinese didn't eat a lot of meat which was mostly used to flavor meals. Poor people in China could not afford to eat meat and the Chinese diet has always been centered on vegetables. The Koreans changed that - the Japanese didn't eat meat until the 19th century."
Wang grew up in Shanghai. He came to the US in 1987 to study at Syracuse University. In 1992, he began teaching at Rowan. He also teaches classes at Peking University, one of China's top colleges.
paulwelitzkin@chinadailyusa.com