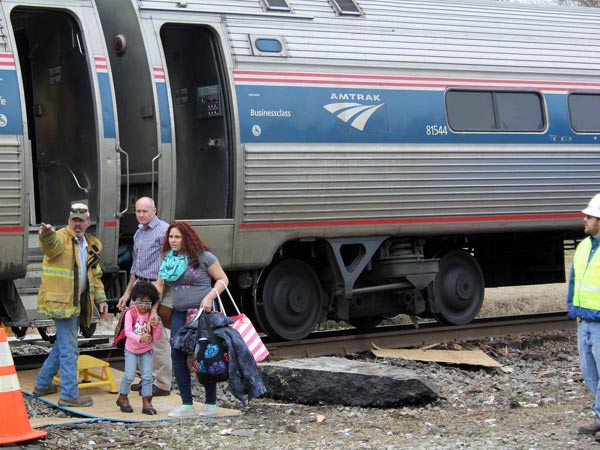 Train passenger Alyssa Coleman and her little sister, Viara Hinton, who were traveling home to Virginia, are helped off of the derailed Amtrak by workers on the scene near Halifax County, North Carolina, March 9, 2015. [Photo/Agencies]
RALEIGH, North Carolina - An Amtrak passenger train collided with a tractor-trailer that an eyewitness said was stuck on the tracks while trying to make a difficult left-hand turn Monday. At least one of the train's cars toppled and 55 people were injured.
The tractor-trailer had backed up several times as the truck's driver tried to make the turn, said Leslie Cipriani, who shot a video of the collision with her cellphone while sitting in her car at a stop sign. While the driver was still attempting the maneuver, Cipriani heard the sound of the oncoming train and saw the crossing arms hit the tractor-trailer.
"I saw him jump out of the truck when he knew he couldn't beat it. ... I heard the train noise and thought, oh my God, it's going to happen," she said.
Officials with the North Carolina Department of Transportation said 25 people were taken to Halifax Regional Medical Center by bus and 15 by ambulance following the crash, which police said happened about noon in the town of Halifax. None of the injuries appeared to be life-threatening, officials said.
A law enforcement officer was blocking the intersection before the collision, possibly trying to help the truck driver make the turn. Asked if it seemed that the officer knew the train was coming, she replied: "That's what it looked like."
Federal Rail Administration spokesman Michael J. Cole said it appeared that the locomotive and two cars derailed. State transportation officials said one baggage car derailed.
The train had one locomotive and seven cars, Cole said. He said the authorized speed for the train is 70 mph (113 kph), but authorities don't yet know how fast the train was traveling.
The Amtrak train was the Carolinian, which runs between Charlotte, North Carolina, and New York City each day. It was headed north at the time of the crash.