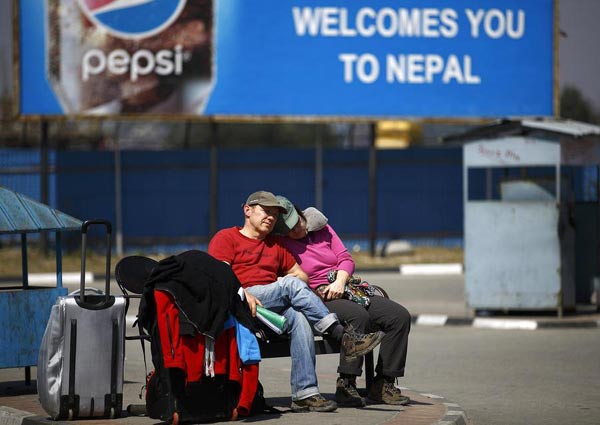 Stranded passengers sit near their luggage at Tribhuvan International Airport in Kathmandu, March 7, 2015. [Photo/Agencies]
BEIJING - More than 1,000 Chinese tourists have returned home taking flights of China's three major airlines after a crash-landed Turkish plane caused four-day suspension of a Nepalese airport.
Nearly 650 Chinese have arrived in Southwest China's Kunming city from Kathmandu via flights of China Eastern Airlines since the re-opening of the Tribhuwan International Airport, Nepal's only international airport, on Saturday evening, the airline said.
Another airline company, China Southern Airlines, has dispatched four flights carrying over 400 tourists back to the country, while over 200 Chinese nationals returned to Kunming by Air China.
Over 2,000 Chinese tourists had been trapped in the airport before the Turkish Airlines plane was successfully removed from the runway and pulled towards a secure parking zone.
Turkish Airlines Flight TK726 veered off the runway in course of landing on Wednesday morning. Approximately 40,000 passengers and 240 flights had been affected.
The Chinese government initiated emergency responding measures immediately after the accident, coordinating airlines to help trapped Chinese nationals return safely, a spokesperson of the China National Tourism Administration said on Sunday.